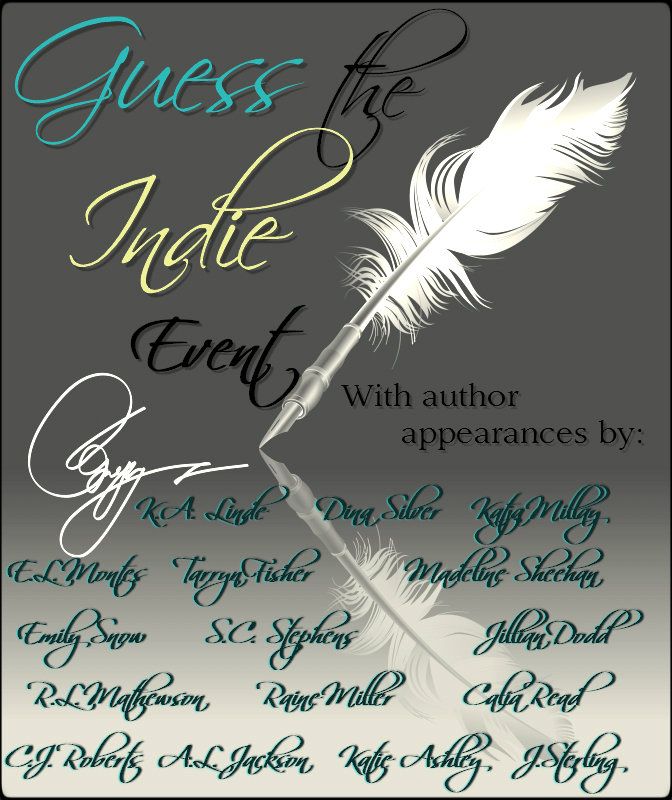 Welcome to the first ever
Guess the Indie Event
on My Secret Romance! I am super flipping excited for this! I had thought of doing something for Independent authors for some time now, but I kept finding more an
d more books that would occupy my thoughts for days on end, so….

So I'm hoping that if this goes well and everyone likes it, then I would LOVE to do another one, since there are soooo many amazing

I

ndie's out there!
Here's how the game will go:
Each day a new post will go up with small snippets, lines or quotes from books by Independent authors.
You will have to guess which book the lines/snippets/quotes are from. Your answer will go in the rafflecopter, that way no one can copy each other.
Character names have been removed and replaced with XXX. If you look at the photo at the top, it shows which authors books I'm using, so that may help.
Every day with each post, I will be giving a kindle book or paperback book away. Some of the books were purchased by me and some were generously donated by the fabulous authors.
The goal of this game/event is for readers to find new indie's to read. And what's better than that? Sometimes a few lines from a book will seal the deal for me. Maybe it will for you too!
But here's the catch- the giveaway book will not match the snippets of the post that day…because that just defeats the purpose of this game! But it will also open readers to new authors with is what I'm going for here. Maybe you'll win a book from an author you haven't read yet and fall madly in love with it....
The contest will run during the week only. A new winner will be picked each day but I will contact all the winners on Saturday. Seriously, I need to keep what little of my sanity I have left.
I will be posting this everyday so no one is confused. :)
Yesterday's snippet belonged to

Disastrous

by E.L. Montes!!! Read the review HERE

.
Today's snippet with three quotes:
Snippet-
"I hate my left hand. I hate to look at it. I hate it when it stutters and trembles and reminds me that my identity is gone. But I look at it anyway; because it also reminds me that I'm going to find the boy who took everything from me. I'm going to kill the boy who killed me, and when I kill him, I'm going to do it with my left hand."
Quotes-
"I know at that moment what he's given me and it's not a chair. It's an invitation, a welcome, the knowledge that I am accepted here. He hasn't given me a place to sit. He's given me a place to belong."
" The world should be full of Josh Bennetts. But it's not. I had the only one, and I threw him away."
"If you scrape off the makeup and dress me like a girl as opposed to what I look like now - a profanity-spewing guttersnipe being dragged out of a crack house on cops."
And there you go! Good luck!
a Rafflecopter giveaway