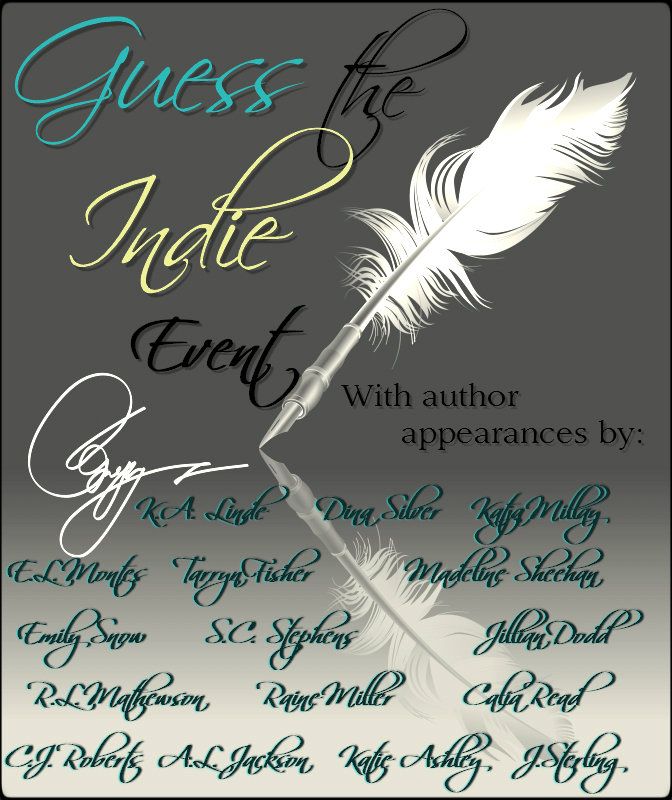 Welcome to the first ever
Guess the Indie Event
on My Secret Romance! I am super flipping excited for this! I had thought of doing something for Independent authors for some time now, but I kept finding more an
d more books that would occupy my thoughts for days on end, so….

So I'm hoping that if this goes well and everyone likes it, then I would LOVE to do another one, since there are soooo many amazing

I

ndie's out there!
Here's how the game will go:
Each day a new post will go up with small snippets, lines or quotes from books by Independent authors.
You will have to guess which book the lines/snippets/quotes are from. Your answer will go in the rafflecopter, that way no one can copy each other.
Character names have been removed and replaced with XXX. If you look at the photo at the top, it shows which authors books I'm using, so that may help.
Every day with each post, I will be giving a kindle book or paperback book away. Some of the books were purchased by me and some were generously donated by the fabulous authors.
The goal of this game/event is for readers to find new indie's to read. And what's better than that? Sometimes a few lines from a book will seal the deal for me. Maybe it will for you too!
But here's the catch- the giveaway book will not match the snippets of the post that day…because that just defeats the purpose of this game! But it will also open readers to new authors with is what I'm going for here. Maybe you'll win a book from an author you haven't read yet and fall madly in love with it....
The contest will run during the week only. A new winner will be picked each day but I will contact all the winners on Saturday. Seriously, I need to keep what little of my sanity I have left.
I will be posting this everyday so no one is confused. :)
Here is today's snippet:
"

xxx

! What are you doing over here?" XXX's sultry voice echoed throughout the student union, and I felt my stomach lurch. I lifted my gaze to find him staring at me, so I pinched my lips together, hoping my annoyance would be loud and clear.
"Oh, Kitten. I see you've met my little brother." XXX winked before placing his hand on XXX's shoulder and squeezing.
"Thank God he seems nothing like you. I might actually be able to tolerate him." I tilted my head and smiled sharply before taking a bite of my turkey sandwich. I noticed XXX and XXX sharing an amused glance, and I wanted to kick XXX under the table. The last time I did that it left an ugly bruise on her shin and she didn't speak to me for days, so I restrained myself.
"You need me to work some of that aggression out of you?" XXX offered with a sexy smile.
My mouth was full, but I didn't let that stop me. "I'd rather eat dirt."
"I almost want to see that." XXX chuckled and one dimple appeared on his cheek.
"You would. Go torture someone else," I begged, nibbling at my sandwich before looking away.
"But I like torturing you." He grinned and moved to sit next to me.
"Uh, no!" I shouted before throwing my bag right where he was about to plop his perfect little ass. He stopped short and stood back up.
"Why so angry, Kitten?"
"Why so annoying, jackass?" I mimicked his tone.
I had just taken a bite of my pickle when XXX's warm breath in my ear stopped my chewing. "You'll come around. You'll see. You can't resist me forever."
I suddenly had the urge to spit my half-chewed food all over his arrogant face.
"Sorry about my brother. He isn't really a jerk." XXX smiled as he defended his brother, his head cocked to one side with sincerity.
I coughed to clear my throat and picked up a napkin. "He just plays one on TV?"
"Something like that. Don't take him too seriously. He's just having fun with you."
I half smiled. "But I'm not having fun."
"But you are. And he knows it," XXX added, his expression a mixture of confidence and knowing.
And there you go!
Please place your ANSWER in the rafflecopter ONLY. Then leave a comment. Thanks and goodluck!
a Rafflecopter giveaway