Happy 1st Birthday to My Secret Romance! Not only is it my blogs birthday, but it's mine as well!
I can't believe it's been a year since I started blogging. When I first started to blog, I had no clue what I was doing. I was completely clueless and to top it off, I could hardly write a review! But it was something I really wanted to put effort in so I pushed and pushed. Writing has never been my strong point and I've always had difficulty with it, but I believe if you keep practicing then you will get better in time.
Author Sarah MacLean
It wasn't easy at first either. Luckily, I met Francesca from Under the Covers who showed me the ropes. If you don't follow her blog, then you seriously are missing out. She has the COOLEST graphics and posts EVER! I always say when I grow up I want to be like Under the Covers and Guilty Pleasures. They rock. You need to follow. Francesca then showed me to a really fabulous Yahoo! group for Romance Book Bloggers, and without ALL of them, I would have never made it and given up. Just about all the bloggers from the Yahoo! group can be found in my Blog Roll at the top of my blog. These bloggers know their shit and the info they've given over the past year is priceless. I also need to mention all of the woman who contribute to the blog. Without them, I wouldn't be able to post each day, or interview authors as much, or schedule interviews with new authors that I've never heard of but they love and wanted to share. THANK YOU!!!! I love all these woman! xoxoxoox
Author Maya Banks
Alright, so I waited until the last minute to post this like a moron. As I look at the clock, it's 11:23 pm, and I'm rushing to get this out. Why did I wait, you ask? Simply because I didn't want to acknowledge my birthday, but since I knew it was my blogs birthday as well I have no choice. I need to thank you all. :) I may be fairly young still, turning 28 today, but who the fuck likes to celebrate a birthday unless you're turning 18 or 21? Ok, 25 was fun to hit, but it hasn't been fun since. NO ONE likes to turn another year older. All I can think of is wrinkles, weight gain, varicose veins, and saggy boobs. All of which can be fixed, but you still, you can't turn back time.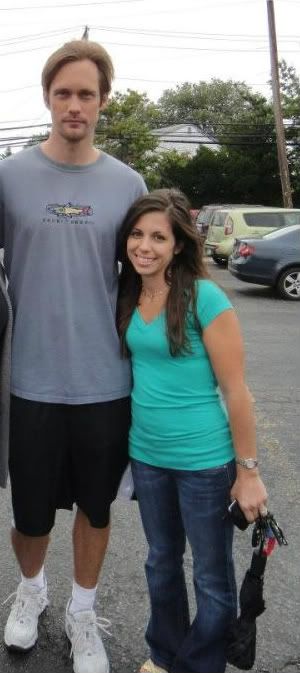 Eric from TRUE BLOOD!!
Right now, I am all over Indie authors. I.CAN'T.GET.ENOUGH.of them. As much as I love them, I wanted to take it back to when I started reading to the authors who hooked me from the beginning.
These are authors whose books I've read multiple times and
I.CAN'T.GET.ENOUGH.OF.THEM either.
I've decided to do a giveaway with them...a paperback giveaway! Lately it's been all kindle books since it makes life much easier, but when Borders closed I bought tons of books. I couldn't bare to see these books thrown out, so I bought double and triple of some of them.
So here is what I'm giving away in honor of my blog's birthday. But first, I need to thank all the followers and say,
THANK YOU SO MUCH FOR FOLLOWING and reading, and posting! Whether you're following via Twitter, Facebook, Linky, Google Friends Connect, ect., I don't care. Just know I thank you and so do all the reviewers here.
Ok, so I couldn't get this posted last night because my computer was moving slower than molasses. Sorry! But those are the books I'm giving away- three paranormal and one suspense. Why, you ask? Because my love of reading all started with paranormal romance and I read it for three years straight. I wanted to branch out but wasn't sure where to start and a friend turned me to Pamela Clare. The rest is history.
Enjoy the pics of some of the authors I met this year...and ERIC!
a Rafflecopter giveaway