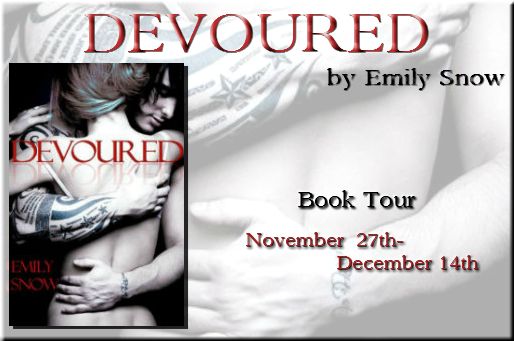 Emily, welcome to My Secret Romance! Thank you so much for being here! Can you tell us a little about yourself? Something most wouldn't know about you?
Thanks so much for having me, Taryn! I'm a girl from a really, really small town who spends way too much money on Kindle books and iTunes. I've got kids (who love to read—winning!)and a husband (who listens to me rant about my characters). I have really supportive parents (who just found out I write romance a month ago) and I've been BFFs with the same girl for 24 years. Something most people don't know about me? I was a bit of a Titanic freak when the movie came out. I watched it so many times that I still know every line of dialogue, and I haven't watched the movie in at least ten years. Okay . . . I guess that makes me more than just a "bit of a Titanic freak" huh?
I really liked Lucas and how we didn't get too much of his background- It kept me wanting more. He's what I look for in a hero, though I wish he was more of a jerk. Hey, I like my heroes mean! lol Where did you get your inspiration for Lucas?
I'm so glad you liked Lucas! Don't worry—his background will be laid out in Consumed and just between us, it's not very pretty.

L

To be honest (and please don't tell him this) I got a lot of my inspiration for Lucas from my husband. I married a total smartass, but luckily for him, I'm just as sarcastic as he is.

Describe Sienna to us. What's her personality like?
Sienna is very sweet.Like I mentioned before, I'm a bit of a smartass—okay, a HUGE smartass—so writing really sweet characters is always fun. Sienna's got this very giving personality, and she'll do just about anything for her family, including risking her job and sacrificing her happiness.

When writing a book, do you have an outline you follow or do you just let the pen take you away? What if the outline you planned goes in a different direction? Do you follow it or keep to your plan?
I always, ALWAYS, writea detailed outline for my books and it always goes very badly. I write these long-ass outlines and very rarely do I follow them. I keep saying that I'm done with outlining and yet I have quite a few saved to my computer at the moment!

At the end of DEVOURED, there were some unanswered questions. Do you plan onrevealing them in your next book?
Yes! There's one more book in Lucas and Sienna's story and everything will be revealed in that book.Lucas has a lot of issues and he's so guarded, so I can't wait for readers to see him totally stripped down.

How many books are you planning for in the DEVOURED series? Do you have a set release date and could you give us a sneak peek of it?
There's at least one novel (CONSUMED, January 2013) and one novella (ALL OVER YOU, November 2012)but right now I'm not sure if there are any more books. Kylie—who's one of my favorite characters—has been bugging me to write her story, so that's probably going to happen at some point next year. Trust me, she's got a lot to say!
I just posted a sneakpeak of All Over You on my Facebook page the other day, which can be found here: http://www.facebook.com/pages/Emily-Snow/363370467075260.I can't give away a sneak peak of Consumed quite yet, but there might be something on my blog around Christmas time when the cover is revealed.*Whistles innocently*

What are you currently working on at the moment? Can you tell us about it?
I'm working on a new adult novel called TIDAL that I've fallen head over heels in love with. It's about an actress who's fresh out of rehab and the surf instructor who's been hired to train her for her newest role. I've laughed and cried while writing this one and my husband must think I'm insane whenever he sees me working onit!

What can we expect from you in 2013?
Quite a few morebooks! There's Consumed coming out in January and I've got another new adult I'm planning to release in March or April and I've also written a paranormalbook . . . I spend a lot of time glued to Word, can you tell? ;)

What's your favorite quote?
"I would always rather be happy than dignified" –From JaneEyre

Do you have a guilty pleasure? Care to share it with us? ;)
Pole dancing. ;) I got into it a few years back after seeing a Studio Veena YouTube video and bought myself an X-Pole. It's kick ass exercise, and seriously, so freakin'HOT!

Describe DEVOURED Twitter style- 160 characters or less.
Rock star convinces woman who turned him down 2 years before to work for him after he buys her grandma's house in a foreclosure sale. There's sexy time.
Thank you so much for letting me visit your blog, Taryn! You ROCK so hard for doing all this for me.<3
Bio:
A native of Southwest Virginia, I'm the 26-year-old author of the forthcoming DEVOURED series
(2012) and CONFESSIONS OF A FRAT GIRL(2013). I love books, sexy badboys, and really loud rock music, so naturally, I write stories about all three.
Giveaway:
Emily will be giving away one ebook of DEVOURED atevery blog stop! Please leave a comment to win an ecopy of the book!!!