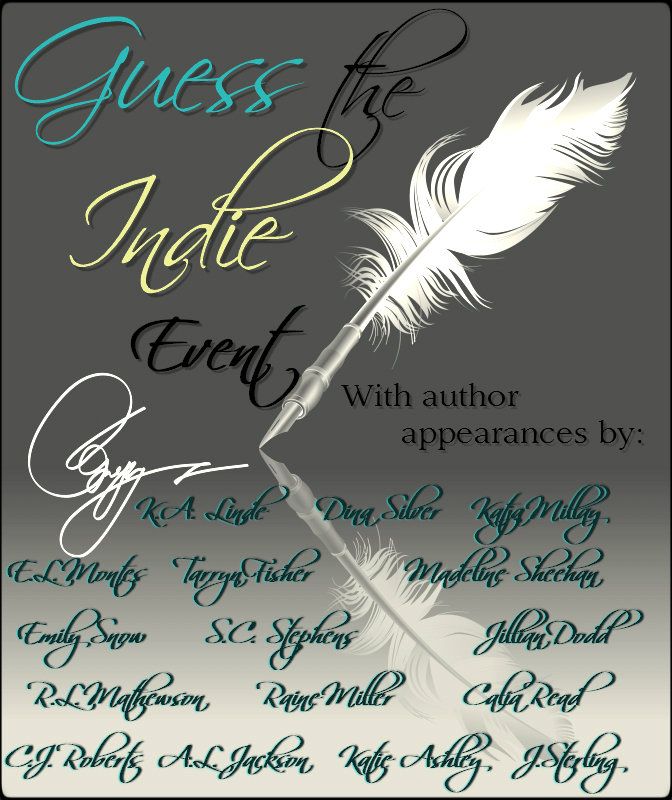 Welcome to the first ever
Guess the Indie Event
on My Secret Romance! I am super flipping excited for this! I had thought of doing something for Independent authors for some time now, but I kept finding more an
d more books that would occupy my thoughts for days on end, so….

So I'm hoping that if this goes well and everyone likes it, then I would LOVE to do another one, since there are soooo many amazing

I

ndie's out there!
Here's how the game will go:
Each day a new post will go up with small snippets, lines or quotes from books by Independent authors.
You will have to guess which book the lines/snippets/quotes are from. Your answer will go in the rafflecopter, that way no one can copy each other.
Character names have been removed and replaced with XXX. If you look at the photo at the top, it shows which authors books I'm using, so that may help.
Every day with each post, I will be giving a kindle book or paperback book away. Some of the books were purchased by me and some were generously donated by the fabulous authors.
The goal of this game/event is for readers to find new indie's to read. And what's better than that? Sometimes a few lines from a book will seal the deal for me. Maybe it will for you too!
But here's the catch- the giveaway book will not match the snippets of the post that day…because that just defeats the purpose of this game! But it will also open readers to new authors with is what I'm going for here. Maybe you'll win a book from an author you haven't read yet and fall madly in love with it....
The contest will run during the week only. A new winner will be picked each day but I will contact all the winners on Saturday. Seriously, I need to keep what little of my sanity I have left.
I will be posting this everyday so no one is confused. :)
Yesterday's snippet went to The Perfect Game! I was surprised by how many knew it! I LOVED that book and that scene very much! Here is a review to the book, in case you haven't read it yet.
Here is today's snippet with three quotes:
"XXX. . . " she whispered in what sounded adoration. If I could see her face right now, I knew what I'd find. I'd see what was in the expression she'd worn as she had gazed out at me from her kitchen window on Sunday afternoon, the same thing that I had felt in her touch when she'd knelt before me and begged me to look at her, one I'd recognized but had been unable to respond to.
She swallowed, and in her hesitation, I knew she wasn't ready to say it.

Turning to lie on the cold sheets of my hotel bed, I faced the wall in a way that I was sure would mirror her position, pretended that she held me, felt her ghost her fingers along my jaw, and listened to her breathe. It calmed me, soothed the sting, caressed the pain. "XXX," I said again, this time softly, matching the calm her distant presence brought, her name a promise on my tongue—soon.
"D
id your mom ever talk to you about why I wasn't with you when you were younger?"
She shrugged one shoulder as if it didn't matter at all. "You didn't want me."
"

For so long, I'd wanted to hear those words fall from her lips. I'd just had no idea that in those words there would be so much sadness, that they would be tainted by years of her sorrow, and that my own thrill in finally hearing her say them aloud would be tarnished by the immense amount of resentment over what she had done."
"A love as intense as the one we shared, one that had not dimmed through years of betrayal but had only grown, was terrifying. We had the power to destroy, to devastate and ruin, to lay the other to waste. But I wasn't running."


And there you go!

Please place your ANSWER in the rafflecopter ONLY. Then leave a comment. Thanks and goodluck!
a Rafflecopter giveaway