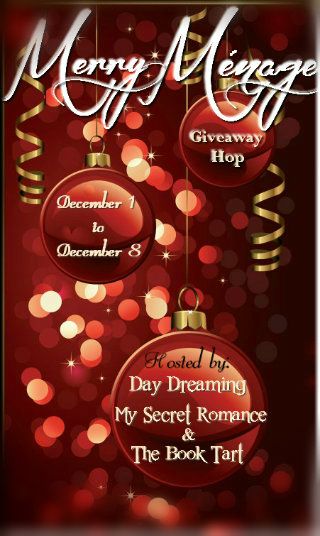 Come join our Merry Menage Giveaway Hop hosted by Day Dreaming, My Secret Romance and The Book Tart!
Need a new bedtime story to light your fire?

Looking for something with a little heat to warm you during the cold holiday season? Feel like decking the halls naughty style? Well then, come join us as we stand under the mistletoe for this wickedly sexy giveaway hop! The more the merrier! Have no worries, we'll help you trim your trees, deck yours halls, and spark that fire!
Let's see....truly, all I want for Christmas are books, books, and more books! I'm all over with map with genres right now. This past month I've bought, probably, 30 books. So many books to read in so little time! Ahhh!!
Here is a book by an author I adore that I will give away! I thought it was the
perfect
book to giveaway for this hop!!
Oh, there is a gift card giveaway too at the bottom of the page!!
Dreaming of a White Christmas led her straight into their arms...

In this holiday spin off of the bestselling novella Three For Me?, saving a man in a snowstorm leads Georgia Bale to an isolated cabin, where three men have an important promise to keep. A promise Georgia soon becomes caught up in herself.

She just wanted to survive Christmas, and her bad holiday karma. She had no idea that accepting a friend's invitation to Colorado would lead her to her perfect man. Times three.

What does an eccentric writer do when a compassionate doctor, a dominant police officer, and a handsome adrenaline junkie only have eyes for her?

Use her imagination.

But when the storm clears, she'll have to decide which path to take. The way back home, or the road less traveled.

Warning: A bit of heart tugging, excessive use of imagination, role playing (the dirty kind), foursomes, magic, a guardian angel or two... and the kinky use of holiday themed beverages
a Rafflecopter giveaway