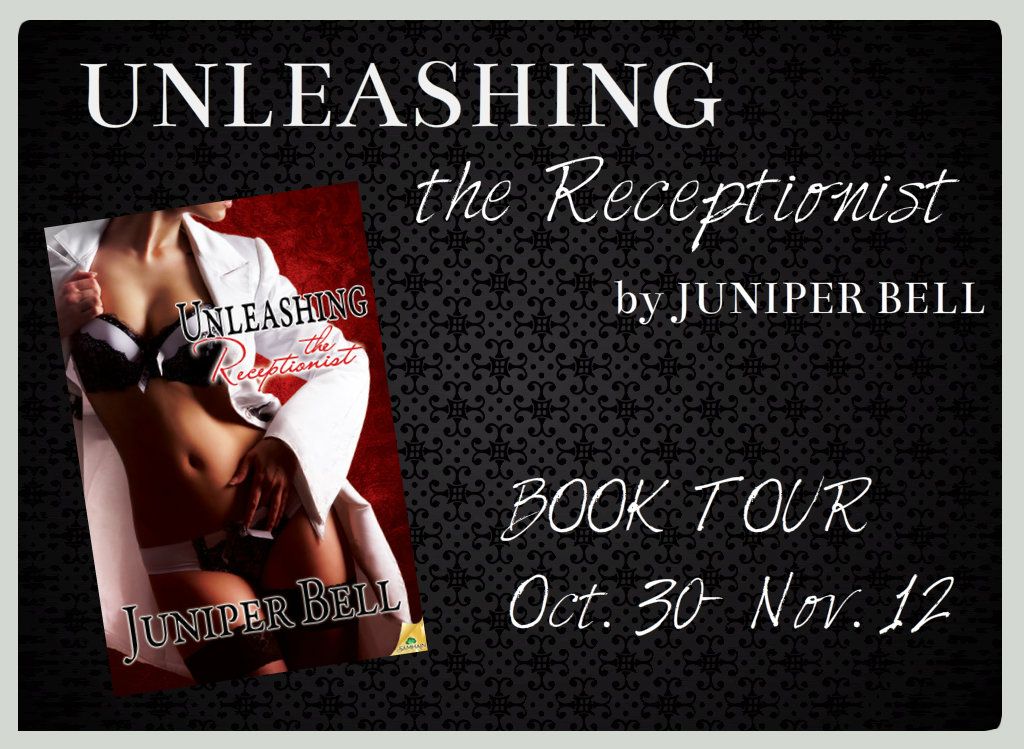 *This book is the third installentment of The Receptionist. If you haven't read the first two please do. You won't regret it.*

Product Warnings
Contains hot three-way M/F/M sex, highly inappropriate office behavior, a shocking secret, a kinky accountant and some really bad girl-on-girl porno reenactments.


Yeah, that's the warning for this hot read. Highly inappropriate office behavior? Yes please!
This book is a page turner, panty dropper, get your bestfriend BOB out and have at it.
I love the chemistry between Dana, Ethan and Simon. All three of them complete each other emotionally and phsyically. But the guys are holding back their past from her and it's making her feel left out, some what unwanted. They don't want to discuss it with her but someone from their past comes in and oh the shit storm she tries to create.
Dana decides to take matters into her own hands by getting to the bottom of what is going on with Ethan and Simons old partner, Margo. She plays and toys with the accountant, Peter who is brought in to look over the firms books.
Oh the things she does is just down right sexy and hot. And it gets the job done. She finds out information and uses it against their old partner whom I like to name "Bitch with Stick Up Ass". Dana baits and hooks Bitch with Stick Up Ass into thinking that she will betray the guys and start working with her. What an idiot!
I love how things turned out after Dana, Ethan and Simon meet with Bitch with Stick Up Ass at the so called "I am betraying two hot guys who loves to bump uglies with me all the time" meeting. I danced and yelled with joy "Ha Ha! Take that you evil twat face!"
As a little "Thank You" to Peter, Dana and Belinda the delivery girl puts on a really bad, horrible teasy, yet slightly hot girl and girl porno for him.
I so hoped and wished that this book was a little bit longer. Why? Well, because I would have liked to know more about what kind of "consultanting" Ethan and Simon actually do. Also, at times it felt like the story was being rushed which was slightly dissappointing.
Overall it's a great read and it will get you all hot and bothered.
***REVIEWED BY: CRYSTAL
A note from Juniper-
Since I've been writing the Receptionist series, my favorite reader compliments are about how the books combine scorching heat with a sense of humor. The heroine, Dana, is a bit of a smart-ass, and since she's narrating the stories, she tends to keep the quips coming. Take the very first line of UNLEASHING THE RECEPTIONIST, the third in the series:
On a typical workday, if I'm chained to my desk it's with silk cords and for one purpose only—because it leads to screaming orgasms for me and my two delectable bosses, Simon and Ethan.
Dana likes playing with words, she likes playing with office power dynamics, and she likes playing with her two sexy bosses. (I guess you could say she likes to play.) Like all of us, she uses her sense of humor in all sorts of ways. She uses it to make sense out of her crappy childhood --- her nickname for her hometown is "Low-life, Long Island." She uses it to lighten up a bleak situation.
"We have picnics, but you can't even spread out a blanket without kicking aside a stray used needle or two."
She uses it as self-defense.
Ethan's voice dropped into the sudden tension with two stern words. "Come. Here."
"Fine." I stepped forward. "But I feel I should remind you of the current policy against physical contact established by the head of this firm..." I broke off
with a squeak, finding myself suddenly turned across his lap. In the space of half a second, I was staring at the beige carpet and feeling my skirt yanked over my head.
"You're so right, boss. I'm being bad, aren't I?" I rubbed my nipples on the broad plain between his shoulder blades. Obedient little soldiers, they peaked right away from the heat of his body. Or maybe from the memory of all the things Ethan had done to them. "There's probably something in the manual about this. In the punishment-and-correction section."
And she uses it to bring that extra bit of playfulness to her sex life with Ethan and Simon.
I prepared to channel every bad porn movie I'd ever seen. "I can't help but notice that you're not wearing underwear."
"Is that a problem? I find it…confining."
I nearly snorted at the way she batted her eyelashes. "Not at all. In fact, underwear is frowned on here at Cowell, Dirk & Arthur. Unless it looks like this."
I unbuttoned my sweater to reveal my bustier.
So if you think hot sex and humor might be a fun combo, give UNLEASHING THE RECEPTIONIST a try. It's the third in the series, but it can be read as a standalone. And you can always enter the contest to win the first two books!
Juniper Bell is a multi-published, bestselling author of erotic romance. She lives with her husband in a cabin in Alaska with no running water and a spectacular view of glaciers. She wound up in the frozen north after leaving her career as a stressed-out Los Angeles TV writer. Luckily, her love for writing survived the move. When she's not writing, she's spending time with her family, traveling, shoveling snow, and dreaming about the day she moves to Hawaii. She's published with Ellora's Cave and Samhain Publishing.
a Rafflecopter giveaway