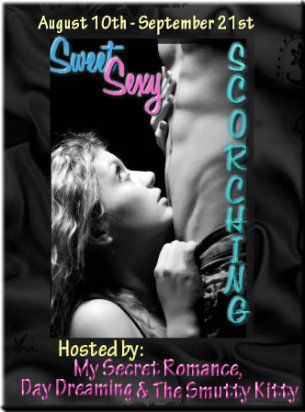 Hi ladies, I'm Buffy with My Secret Romance Book Reviews, and I've had the great pleasure of reading your book. I've read all kinds of romance books and anthologies, but this one took me to new places in the best of ways. I'm really excited to get to talk to y'all, thanks so much for taking the time to sit and chat with me today!
What inspired a collaborative book about exhibitionism and voyeurism?

Was it one of you that sparked the idea (so I know who exactly to thank from the very start, as well as your wonderful selves)?
Cassandra:
Well, I had written Back to Nature, which, funny enough, was titled Public Displays of Eroticism, a while ago. I like to write shorts in between longer stuff. Michele Jensen from Sybarite Seductions read it and mentioned it would be cool if we made it into an anthology. I contacted Jami and Cristal, both of whom are great writers, and asked them if they wanted in.
Jami:
Cassandra had already written the first book and asked if we wanted to be in the anthology with her. Originally, we were going to write unrelated stories with public sex. One of us came up with the idea to have them be in the same park at the same time.
Cristal:
This is my first anthology and I must say I loved the experience. It was great. As we emailed back and forth the idea seemed to flesh out on its own. I read Cassandra's story so we knew where it started and then ran with our own versions, intertwining them.
How did the writing work?

All the stories stem from one and in many cases interweave.

Was the consistency of events and all the details difficult to maintain?
Cassandra:
We all wrote the stories independently but knew we all wanted to refer to the events in Back to Nature in our stories. Then our wonderful editors, Michele and also Lori, worked their magic to make sure the stories all came together seamlessly.
Jami:
Mostly we based the other stories off of the first one, which made it easier. We also agreed on the setting and what types of things were in this park.
Cristal:
I think I jumped the gun and answered this question above :) After I mulled it over for a little while I came up with the idea for mine – which I won't spoil here – but many have said they really enjoyed it and loved the ending. It was loads of fun.
Do you all have any other similar projects in the near future?

If so, I will personally go line up for it!
Cassandra:
Cristal and I, along with my mom, who is also an author, will be doing an anthology tentatively titled Sexy Sports Shorts. I think that'll come out in November 2012. My story is about a Scottish tennis instructor and his new student.
Jami:
I'm working on another anthology for Sybarite called The Game Plan. These stories revolve around sports heroes and aren't connected. In the future, I would love to do another anthology with Cristal and Cassandra.
Cristal:
Sexy Sport Shorts Anthology was actually my idea and I hope it lives up to Public Displays of Eroticism, which was Cassandra's baby. I've submitted my short story for the anthology. The working title is Sweet Spot and I'm nervous to hear what the editor thinks about it. It's about a golf pro that gets a hole in one :)

Let's leave it at that. Oh, and golf CAN be sexy. I have other projects in the works and my fourth release with Ellora's Cave is due out 08/31.
Cassandra, how did you come up with the first trouble making couple (not that I'm complaining *grin*)?
Cassandra:
I love writing BDSM stories. And we have a nature preserve near my house that has a lake with those little overlooks. I thought about how interesting it would be to "get busy" on one of them, and Back to Nature was born!
Do all your stories tend toward some level of BDSM or something just out of the norm?
Cassandra:
All of mine? No, not really all BDSM, but I do love me a sexy Alpha male!
Cristal:
Three of mine do. Switch Me UP, Being Ariana and Being Bound touch on BDSM and femdom. I'd like to delve a little deeper into it in future stories.
What was your favorite part about writing your two stories for this anthology?
Cassandra:
Well, as I said, I wrote Back to Nature a while ago, so it kind of felt like I was more a part of the anthology since I wrote a new story for it as well. Plus, I love the way that one starts. I won't spoil it, but the opening cracks me up. ;-)
Jami, your two stories are the closest related, as both couple know each other and begin at the same point.

What inspired you to write about two playboys who change their tune for two special women?
Jami:
I love to write about sports romance heroes because I love sports so it was a no-brainer to pick a couple hot football players. I also liked the idea that they met each year, same place, same time, and spent a night together.
How do you balance such a high level of emotional conflict and heat?
Jami:
That's part of my writing process. I do all the physical stuff in the first draft. Then I go back through twice more and add the emotional, including the thoughts and feelings of the characters. I think the most effective sex scenes focus on how the characters are feeling, not on part A goes in part B.
Which of your stories was the most fun for you to write?
Jami:
Actually, I loved them both because the heroines were so different. If I had to choose, I'd pick Jaid's story, In the Open. Jaid is a different kind of heroine than I normally write. She's older, experienced, a successful attorney, and she has the hots for a younger man. Alex is a young football player on the verge of being a starter. They're both daring and adventurous when it comes to sex. I love how Alex shows Jaid what she means to him.
Cristal, your story had a certain level of humor that matched the emotion and heat.

Part of that was due to the connection to the couple that Cassandra introduced that got the whole park in a frenzy.

What made you tie the two so close?

Especially at the end (loved that btw)!
Cristal:
LOL – me? Humour? (Cassandra ed note: Cristal is Canadian so she spells things funny) I didn't realize it was in there. I'm flattered you saw it and always wished I could write funny :)

Well, I'm a pantser and never really know where things are going it was fun too. The end seemed to pop into my mind and I think it was a nice little shock. I adore surprises and trying to keep the reader guessing.
Do your other works have that same dynamic of equal levels of heat, humor, and love?
Cristal:
Love? Always love – except for Switch Me Up which is more of a one night stand. Heat?

I think so.

Hope so! I like to write hot and try for as much realism and feeling as I can dish up. Humor, I'm not so sure because I've never looked at it from that perspective. I'd love to be able to weave humour in my writing. You seeing it in there has really made my day.
What was the most memorable part of your involvement in this anthology?
Cristal:
Working with Cassandra and Jami and meeting Michele and Lori. It was really treat to work with everyone. The edits were in depth and I learned a lot, which I'm appreciative for. I think our blending was perfect and it really showed in the stories. I look forward to working with everyone again.
Cassandra is giving away a signed set of romance trading cards to one commenter.
Be sure to follow the hop to all the stops to try and figure out the 'Guess Who' post. If you would like to be in the drawing for the grand prize, please make sure you fill out the Rafflecopter form. It only needs to be filled out once from one blog each day to be entered. Thank you and good luck!!
a Rafflecopter giveaway