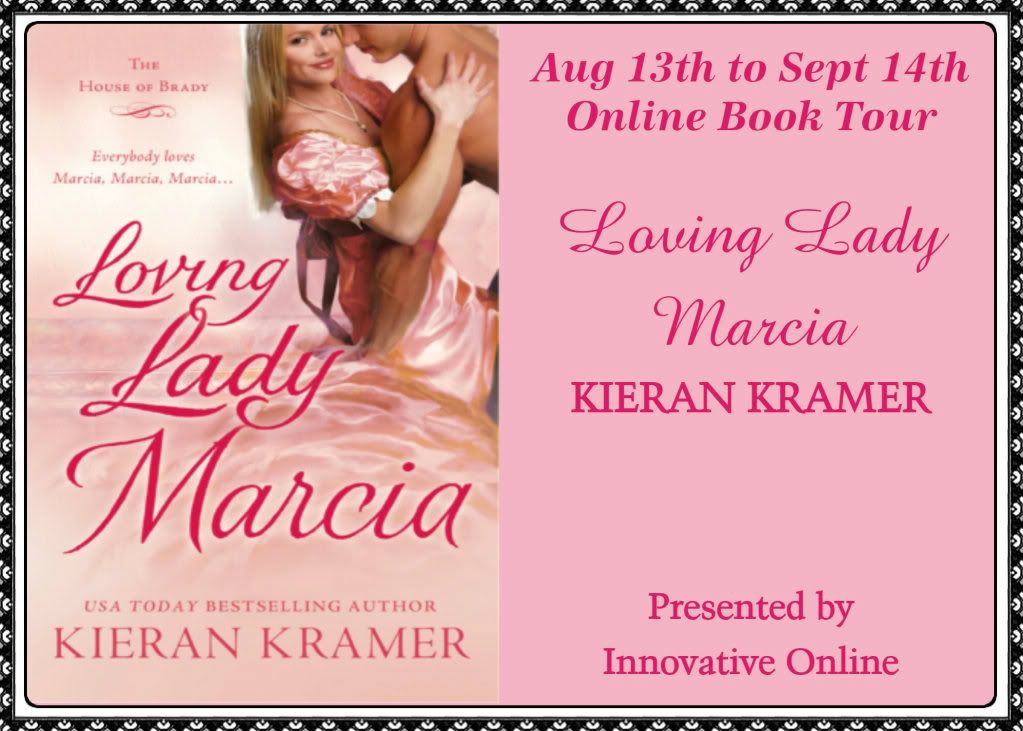 Here's a little snippet from a random page—I'm leaving out the guy's name, though, so you won't know who he is:
His eyes gleamed with something that sent shivers of awareness through her. "I'll leave you here." He lingered over the kiss on her knuckles, and her fingers clutched in response to the heat of his mouth. "I'm glad you paid me a visit."
She was appalled that she felt so reluctant to leave him. "I'm stopping by again," she blurted out, "to meet Joe."
There was a great silence between them.
"You can't do that." His voice was quiet. "For many reasons, not the least of which is protecting your good reputation."
"I know." She swallowed. "But I'm going to do it anyway. So don't try to stop me."
He lifted her chin, the gleam in his eyes becoming more pronounced. "You're both headmistress and troublemaker. Do you know what that combination does to a man?"
"No," she said, feeling rather breathless.
"It makes him unable to think of anyone but you. In the morning. At the noon hour. And at night."
At night? Her face grew hot. "_____________, you shouldn't—"
"Go home," he said abruptly. "Before I pull you into another alleyway."
And so she fled. Once she was at a safe distance, she glanced over her shoulder to catch a glimpse of him walking away. But he hadn't. He was still there in his black cape, his gaze dark and steady upon her beneath the rim of his hat.
She couldn't help herself. She turned and faced him, walking slowly backwards a few steps, her eyes locked on his, drinking in the sight of him. The wind blew a lock of hair in her eyes, and she pulled it aside.
She saw the corner of his mouth tip up once more, and her heart surged.
She spun forward again, and somehow at that moment—when she could feel him still watching her—she was able to forget the reality of her hopeless situation.
And for a brief, shining moment, it was like walking beneath an invisible rainbow into a bigger and brighter life.
USA Today best-selling author and double-Rita finalist Kieran Kramer writes Regency historical romances for St. Martin's Press. IF YOU GIVE A GIRL A VISCOUNT, the fourth and last book in her Impossible Bachelors series, is on sale now. Her new series, House of Brady, premiers in August 2012
with LOVING LADY MARCIA. A former CIA employee, journalist, and English teacher, Kieran's also a game show veteran, karaoke enthusiast, a
nd general adventurer. Find her on Facebook, Twitter, and at
www.kierankramerbooks.com
.
Stay connected to Kieran on-the-go with her FREE mobile app available for iPhone and Android devices!
Search 'Kieran Kramer' in the iTunes App Store or Google Play to download her app.
Kieran Kramer Online: Author Site: http://kierankramerbooks.com/ Facebook: http://www.facebook.com/KieranKramer Twitter: http://twitter.com/kierankramer Goodreads: http://www.goodreads.com/author/show/3452785.Kieran_Kramer Pinterest: http://pinterest.com/kierankramer/ Street Team: http://regencyrockstars.com Group blog of writer moms: http://peanutbutteronthekeyboard.wordpress.com Free Droid app: https://play.google.com/store/apps/details?id=com.onseeker.kierankramer Free iPhone app: http://itunes.apple.com/us/app/kieran-kramer/id524781724?mt=8