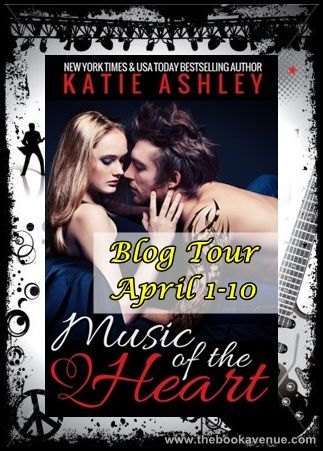 For Abby Renard, the plan was supposed to be simple—join her brothers' band on the last leg of their summer tour and decide if she's finally ready for the limelight by becoming its fourth member. Of course, she never imagined stumbling onto the wrong tour bus at Rock Nation would accidentally land her in the bed of Jake Slater, the notorious womanizing lead singer of Runaway Train. When he mistakes her for one of his groupie's, Abby quickly lets him know she sure as hell isn't in his bed on purpose.

Jake Slater never imagined the angel who fell into his bed would resist his charms by promptly kneeing him in the balls. Of course, the fact she seems like a prissy choir girl makes her anything but his type. So he is more than surprised when after betting Abby she wouldn't last a week on their tour bus, she is more than willing to prove him wrong. But as Jake's personal life begins to implode around him, he finds an unlikely ally in Abby. He's never met a woman he can talk to, joke with, or most importantly make music with.

As the week starts comes to a close, neither Abby nor Jake is ready to let go. Can a sweetheart Country songstress and a bad boy of Rock N Roll actually have a future together?
Music of the Heart by Katie Ashley Playlist
Abby sings an acoustic guitar version for the boy of Adele's

Someone Like You.
Abby gives Jake a run for his money by knowing how to play AC/DC's

Highway to Hell
AJ and Abby dance to the La Tropa Vallenata version of

Los Caminos de la Vida
AJ and Abby sing a duet to Kenny Rogers and Dolly Parton's

Islands in the Stream
Abby proves Jake wrong singing

Madonna's Like a Virgin
Abby tries to get Jake to keep song writing by mentioning Eric Clapton's

Tears in Heaven
Then Alter Bridge's

In Loving Memory
And Dolly Parton's I Will Always Love You
And singing in codes like in the 60's with The Byrds

Mr. Tambourine Man
Abby is dancing to Michael Jackson's

Beat It while cleaning the bus when Jake interrupts her!
Jake helps Abby prepare for her duet with Garrett to Jason Aldean and Kelly Clarkson's Don't You Want To Stay
Jake and Abby hang out together and jam to duets like Conway Twitty and Loretta Lynn's Louisiana Woman, Mississippi Man
Ozzy Osbourne and Lita Ford's Close My Eyes Forever
For her first song with her brothers, the boys of Jacob's Ladder, Abby sings a cover of The Band Perry's

If I
Die Young
At his sister, Allison's, Sweet Sixteen, Jake sings Chrissy Hynde's

Forever Young

for her.
At the Sweet Sixteen, AJ and Abby dance to Paula Rubio's

Dame Otro Tequila

to show how the kids how it's done
One of the most important song is

Aerosmith's Angel

that Jake sings to Abby on stage
Susan asks Abby to sing the old hymn

Angel Band

for her.
With her brothers, Abby sings Pink's

Beam Me Up

at Susan's Benefit Concert
She also sings Pink's

Great Escape, which she dedicates to Jake
At the benefit concert, Jake and Abby do a duet to Tim McGraw and Faith Hill's

I Need You
They also sing Paul McDonald and Nikki Reed's

All I Ever Needed