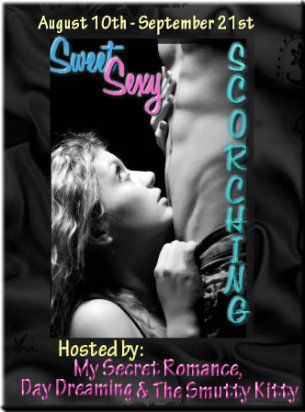 Every girl's fantasy…one woman's dream
See You In My Dreams
Book 1
Sophie Butler is sure she's about to lose her much-needed cleaning job. She's not only walked in on a guest—a violation of her employer's cardinal rule—but she can't seem to tear her gaze away from his gorgeous, naked-as-the-day-he-was-born body.
If all that isn't bad enough, her usually sensible judgment and behavior are clouded by a nagging sense of familiarity. She knows the man from somewhere, she just can't quite place him.
Nathan Pace is certain he's just lost his jealously guarded anonymity. But hold on…if she's just another fan looking for a piece of his alter ego, rock star Jamie Speed, why is she blushing six shades of scarlet? And why is he instantly aroused? When he catches a glimpse of her eyes, he knows. She's the woman who for ten years has haunted his dreams.
The attraction that flares between them is undeniable—and unstoppable. But getting close means risking Nathan's secret identity. Just this once, he'd like a woman to fall for the real man, not the press's version of a celebrity superstar.
Warning: This may be an erotic contemporary romance, but it does contain a hint of fantasy. And when that fantasy involves erotic dreams about a gorgeous rock star, you know you're gonna want the fantasy to become reality…
Their true colors are hidden…until one woman turns everything upside down.



To have it all you'll need to wait
Until the day that seals your fate
While dreaming big may be your trait
Others may not share your faith.
*
When all is different then you'll see
Just how strong your hearts can be
Though his love appears empty
She'll change it all with colors plenty.
-Edna Pace's Song for Seth
Colors of Love

Book 2

Seth Pace, guitarist of the rock band Speed, is a born dreamer, and nothing stands in his way of making those dreams a reality. Except when it comes to band manager Luke Struthers. He's everything Seth wants in a partner, but even after five years of perfectly explosive sex, Luke refuses to commit.

After a childhood ravaged by abuse, Luke knows he's a potential danger to anyone foolish enough to love him. Seth is safer without him, but Luke has no idea how to cut him loose painlessly. Until he spots Seth's kind of woman—pretty, smart, friendly. The plan: seduce her into a sexy threesome, then leave the two alone to fall in love. Problem solved.

A night of excitement with the two hottest men on the planet? Yeah, baby! Yet Kaz's inborn ability to read auras tells her something isn't right. It's obvious Seth and Luke are madly in love, but subtle clues in Luke's aura signal he's up to something. She's not sure what, but if she doesn't do something quick, the two men she's quickly come to adore will wind up without the happily ever after they both deserve.

Product Warnings
One man + one man + one woman = a whole lot of steamy two-way and three-way M/M & M/M/F sex, a hero or two to drool over, and a heroine who recognizes true love when she sees it
Jess is giving away two books from her backlist to one winner.
Bio:
Jess Dee lives in beautiful Sydney, Australia, with her husband, their two sons and their insane dog - a ridiculously overweight puggle named Luigi.
An avid romance reader since her early teens, Jess knew one day, when she grew up, she'd have to write her own love stories. It might have taken a while, but in December of 2005, she finally got "the call." Her first book,
Photo Opportunity
had been contracted. Now you can't hold her down. She's completed a whole host of books, and is finally doing the work she loves most— writing romance.
Jess likes to set her stories in Australia. Have a look at the gorgeous images on the page, and you'll understand why it's so easy to find romance in this beautiful country.
My Website
International Heat
Down Under Divas
Bandicoot Cove
Heat Wave Yahoo Group
Follow Jess on Twitter
Friend Jess on Face Book
Jess's books are available at:
a Rafflecopter giveaway