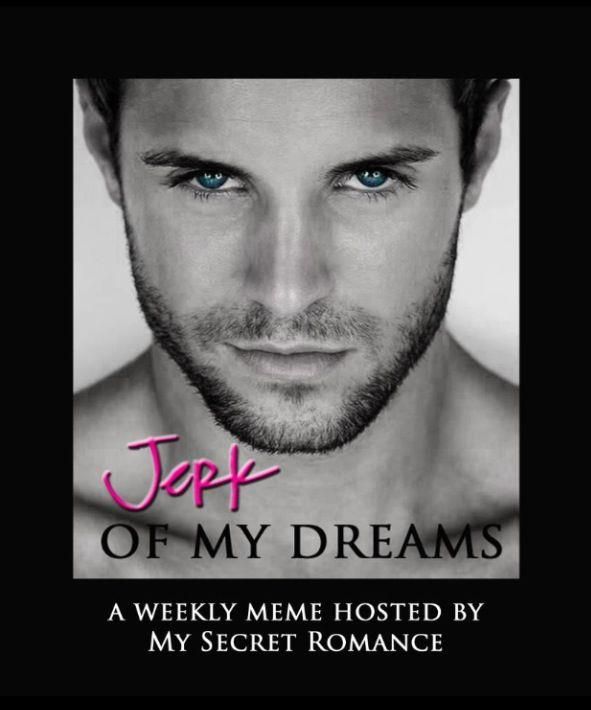 Jerk. Asshole. Douchenozzle.
Admit it- you hate to love the jerks. That alpha male character who is so arrogant and
rude but sexy as hell.
That foul mouthed douche bag of a man who rocks your traitorous heart. We've all read them and we've all liked them to some extent. In real life you wouldn't touch the man with a ten foot pole. But in the fictional world? Nothing can stand in the way! Everyone would be lying to themselves if they didn't admit that the meaner the man, the further we run... Towards them! *sigh*
That's what this weekly meme is about- those jerky
delicious
men! Each Friday this meme will go up, and you can share your jerk anyway you want: review, interview, lines and quotes, giveaway of a book. However you want! All you have to do is sign up and follow the linky. Any time you comment on someones post, leave your link so that person can comment back.

I'm officially in love. With the Riley family… With Jameson… With racing… With this book... With this entire freaking series in general, if I'm being completely honest here. The first book in this series had me hooked… The second book had me begging for more… But this baby… There are no words. This series so far has went WAY BEYOND anything I ever thought it would be- I honestly can't recall the last time it was that I was so emotionally invested in a series like this. These books are so much more than your average romance novel… Each and every character involved in these books steals your heart in some kind of way. I've never read a series that literally takes you from the beginning of a romance blossoming between two people, to the point where Jameson and Sway had reached at the end of this book… And to think that I'm not even finished with the series yet!

The Champion takes you through eighteen years of Jameson and Sway's marriage. Yep, you heard that right… Eighteen. Years. Yet, never once throughout this entire book did I feel that the story was rushed nor did it drag on in any kind of way- That takes talent ladies and gentleman. In this story, you'll get to experience season after season of the same rival drivers… The birth of children… Marriage issues… Doubts… Life changes… And loss. I was so emotionally invested in this story, and Shey Stahl did a fantastic job pulling everything together so perfectly.

Jameson and Sway are probably my favorite couple to date- They have such an unbelievably strong bond and committed relationship that truly surpasses even the happiest fairytale. I've loved them from the beginning when their relationship first initially took off… But nothing compares to the two of them as loving and devoted parents years down the road. It's the thing that I enjoyed the absolute most about this book- You literally get to be front and center in the life of racing and all that it entails- And believe me… It isn't all flowers and rainbows.

I need to just go ahead and give credit where credit is due here… Sway Reins… You are one heck of a woman.

Living the life of a racer's wife would most definitely be a tough life to live… Unless you had the patience of a saint, unwavering confidence in yourself and your relationship, complete and total trust, and Jameson Riley as your husband. Sway is a one-of-a-kind character… Her strength and trust in Jameson is such a huge admirable quality- I don't think any woman in their right mind would be able to see first-hand, naked women throwing themselves at their husband yet never once doubt his faithfulness and trust. She was so confident in her love for Jameson and his love for her, that it completely overshadowed just about any obstacle thrown their way. I have an even bigger respect for her character after reading this book and getting a good look at what it really takes to marry into the life of racing.

Jameson… *sigh* …Where do I even begin? He's definitely my new favorite book boyfriend- He's still the same ol' Rowdy Riley we all fell in love with, but growing up and becoming a husband and father helped to tame him… A tiny bit. He was a man who put everything he had into every lap he made and every race or championship he won- And that included his time away from his wife and kids. But for him, racing wasn't selfish- It was just him being himself… And everyone who really knew Jameson, understood that racing was a part of who he was.

I won't go into much more detail in this review, because I honestly don't want to spoil it for anyone- I went into each and every one of these books having no idea what each story entailed and I truly felt like it gave me an even better reading experience, if that's even possible. The thing I appreciated most in these books, (especially this one) was the amount of depth and character/story development involved- When tragedy strikes, the Riley family pull together in such a way that you can literally feel the love and togetherness of all of the characters- Everything about these books just seem so real. If this is a series you're contemplating, please do yourselves a favor and don't miss out. Not many books make it to my "favorites" shelf but without a doubt, I'll forever be the biggest fan of this series.

★ PS: I definitely wouldn't recommend any of these books as a stand-alone. In order to really understand all of the characters, relationships, and circumstances involved, it's an absolute must to read these books in order.