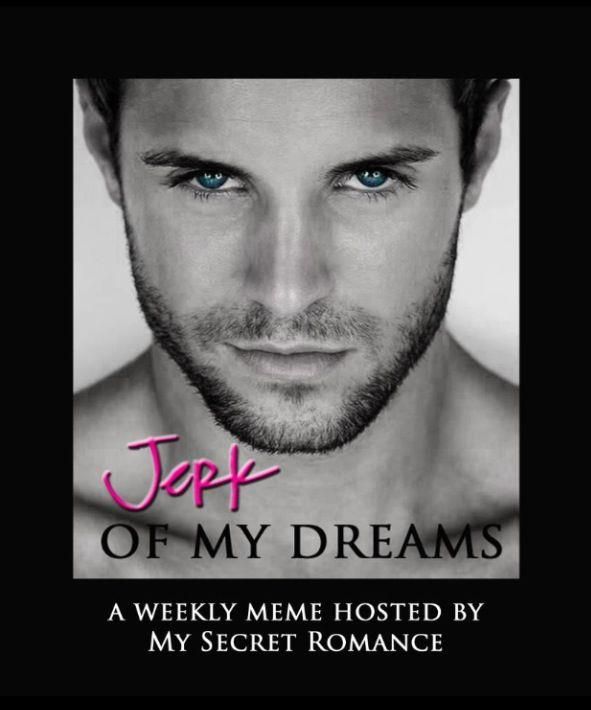 Jerk. Asshole. Douchenozzle. Admit it- you hate to love the jerks. That alpha male character who is so arrogant and rude but sexy as hell. That foul mouthed douche bag of a man who rocks your traitorous heart. We've all read them and we've all liked them to some extent. In real life you wouldn't touch the man with a ten foot pole. But in the fictional world? Nothing can stand in the way! Everyone would be lying to themselves if they didn't admit that the meaner the man, the further we run... Towards them! *sigh*
That's what this weekly meme is about- those jerky delicious men! Each Friday this meme will go up, and you can share your jerk anyway you want: review, interview, lines and quotes, giveaway of a book. However you want! All you have to do is sign up HERE and follow the linky. Any time you comment on someones post, leave your link so that person can comment back.
Let's pretend this wall is my kindle...
I have never been so irritated (yet in love?) while reading a book!
One minute I wanted to punch my kindle and cut someone, the next I was all like...
Lexi contradicts herself
Ramsey is hiding shit
Jack...is being Jack! <3
Loads of sexual tension
Bekah is a whore
Chyna rocks!
A new guy
And I still loved it...
Lord.Help.Me.
Team Jack baby!
Avoiding Commitment is the first book in this series, and a tough act to follow. No joke. I loved it so much that I can honestly say it's one of my top favorite books. What the author did it me was...is..too hard to explain. All I know is that it's exactly what I look for in a book.
This book starts out with a bang! It picks up right where the first one left off. I couldn't put it down and when I did it was all I could think about. This book took over my life for the few days I was reading it and after I finished it too. K.A. Linde definitely has a way with words that grips you right from the start.
Lexi once again finds herself torn between two men. Jack, her first love and who is always ever presently on her mind. No matter what she does she can't seem to escape her past with him. And to be honest, I don't want her to forget it. I love the sexual tension and heat between them. I love the memories they shared. I love how all Jack has to do is look at Lexi with those penetrating blue eyes and she succumbs to his every need. I love how it's a now forbidden romance between them yet they can't fight the attraction...but they do. I just love them together!
Then there is Ramsey- Someone who unexpectedly works his way into Lexi's heart. He has the same sexual tension with Lexi as Jack does, but Ramsey is different and works to prove himself to her in this book. I was worried that Lexi wouldn't notice since she is so consumed with thoughts of Jack. The thoughts never stop until Ramsey comes into the picture and he makes her forget all the deceit and broken promises Jack made to her. But Ramsey will never be able to erase the past though...
The intensity between Lexi and Ramsey is powerful, but Lexi cautious with her emotions when it comes to trusting Ramsey after everything that's happened. He is very secretive and won't open to her which drove me bat shit crazy! Lexi is on guard 24/7 and has reason to be- what Ramsey is hiding is more than she ever thought.
Ramsey is no Saint! Wake up ladies! Read between the LINES!
One issue I had with this book was that I found it to be extremely repetitious, to the point where I was skimming. It made me want to cry over all the long winded thoughts Lexi had during conversations. They were drawn out and tedious, sometimes going on for pages. None of this was needed! Just about each chapter was filled with the same consuming thoughts of Jack. It's one thing to relive memories and events that happened, but it's another thing entirely to relive each one in nearly every chapter again and again. I already know it all.
What saved this book for me was the last 10% of the story.
IT.WAS.AMAZING.
I was reading as fast as I possibly could. I could not put it down yet nearly too much to handle! The end of the book leaves us hanging a bit...now I am dying to find out what happens! Oh, but Jack, what I wanted to do to you at the end for not speaking up...
All in all, I would still recommend this book. K.A. Linde is still my new favorite author of mine. Despite my issues, she still had me glued to each page and on the edge of my seat with wanting more. K.A. Linde was able to capture the love and fervor with this story as much as she did with Avoiding Commitment.

The perfect song for this book- Wide Awake by Katy Perry.