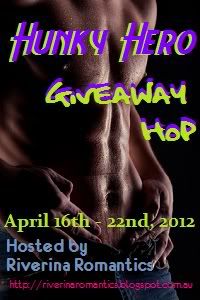 Hunky Hero Giveaway Hop is here!
Who's your favorite hunky hero? For me, he has to have a tortured soul, first and foremost and of course be a total alpha male- that's a given. Then he would have to think he is unworthy of being loved or incapable of loving someone and he has to have a heart breaking story to go along with it. That's my favorite hero. What would really top the cake for me is if the hero is a total jerk to the heroine. Yup, you read correctly. I love hunky heroes that can be a complete asshole to the heroine. Don't ask me why I do, I just do. The meaner the better for me. Strange, I know...but whatever floats your boat, right? And let's not forget about the sweet talking he can do that would lead to hot and steamy passion between the sheets. Ahhh, yes. I love hunky heroes!


Here are a few that come to mind quickly-
Now I want to hear what you all like. In order to be entered in this giveaway, leave a comment naming your favorite hunky hero. Don't forget to mention the name of the book and the author so we can look it up.:) YOU MUST LEAVE YOUR EMAIL ADDRESS ALSO. IT WILL BE THE ONLY WAY FOR ME TO CONTACT THE WINNER.
Only in ebook format
Since most people despise this kind of hero, I will be giving you a choice of one paperback book to chose from below to win.
It's very hard for me to find this kind of hero. If you can recommend me a book with a mean alpha male, I will give you an extra entry. :)