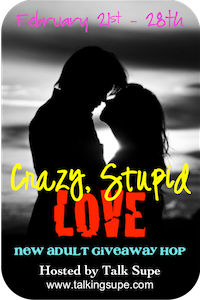 I would like to thank that totally AWESOME blog Talk Supe for putting this blog hop together! New Adult is one of my favorite genres to read. It has all the angst and drama- and jerks- I love to read about. Thanks ladies!!!

Elizabeth Lee is an author I've had my eye on for months now, MONTHS! I've even had one of her books on my kindle but didn't get a chance to read it yet...then I got this one and...
I.
AM.
IN.
LOVE.
Seriously.

This book is so good! My emotions are all over the place. I think I know what's going to happen, I have so many theories, but I just don't know. I love it so much that I asked if Elizabeth would be willing share a teaser from GIVE ME SOMETHING, since it's not out until March 7th...and she did!! Thanks, Elizabeth!





Nick brushed my hair from my face and rested his hand on my cheek. "You're pretty amazing, you know that?"
"
I've been told." Nick's eyes were locked in on mine until the back door opened and a few of his fraternity brothers came laughing out. He glanced at them but quickly turned his attention back to me. As he started to lean his face toward mine, I felt my stomach begin to flutter. He whispered something, but I was too entranced by him to comprehend. His eyes moved to my lips and I realized that everything I'd hoped for between Nick and me was about to happen. The inches closed between us as he flicked his tongue over his lips, I closed my eyes and anticipated the feel of them on mine. This was it. A chance to rekindle what we started all those nights ago. Maybe he'd finally realized his feelings for me. I knew the way I felt about him was too strong to be one-sided. I felt him gently sweep his mouth over mine as he wrapped his arm around my waist and pulled me closer to him. The indescribable feeling took over my whole body as I kneaded my hand into the fabric across his chest and pressed my body to his, needing to get as close as possible. His tongue traced my lips, begging for entry. I could taste the sweetness of him as I parted my lips. The sounds of the party were completely drowned out by the sound of my heart racing as I finally felt what it was like to kiss him again. To
be kissed
by him. I could have stayed like that all night. Unfortunately the cheers of Nick's friends cause him to pull back. He rested his forehead against mine as we both regained out composure.
"
Wow." Nick grinned as he looked into my eyes.
"
Yeah." I grinned, breathlessly.
Quotes:
"I may have dabbled in the art of deception."
"I pulled his lips back to mine, urging him to continue as we fell back onto the bed we'd made filled with lies and promises we should have known we'd never keep."
"I stared into his piercing blue eyes. Even in only two dimensions, they still cut straight through the wall I was frantically trying to build up."
Add this book to your to-read shelf!
I will be gifting one winner a copy of GIVE ME SOMETHING when it releases on March 7th. Please leave a comment and your email address so I can contact the winner. Thank you and good luck!