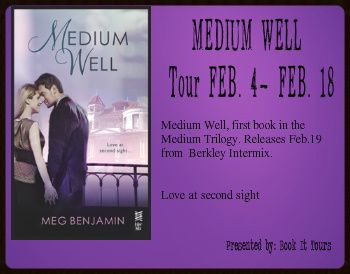 Love At Second Sight
Real estate agent Danny Ramos has always had a knack for selling homes, but when his boss saddles him with a neglected carriage house, Danny discovers that his abilities are more than simple intuition...
On his first visit to the house, Danny is confronted with visions of a violent murder. His assistant, Biddy Gunter, doesn't seem affected, and Danny starts to think he's going crazy—until he gets a visit from his mother, who suggests that Danny's uncanny talent to sell old houses may stem from his family inheritance: psychic empathy.
When Biddy reveals to Danny her own strange dream about the carriage house ghosts, they team up to investigate and discover both the house's dark history and their own unexpected attraction. But as the hauntings turn from unsettling to downright dangerous, Danny and Biddy need to figure out how to rid the house of its ghostly inhabitants, before their budding romance meets an untimely end...
The Medium Trilogy takes place in one of the most historical and romantic neighborhoods in San Antonio--the King William District.
Three Ramos siblings, Danny, Rose, and Ray, all have King William connections. Danny sells historic homes at Vintage Realty. Rose lives in a King William mansion she inherited from her grandmother. And Ray is renovating another mansion so that he and his partner can flip it for a profit. But all three have a hidden talent--so well hidden, in fact that they it's a secret even from them. They're all descendants of the Riordan family: legendary mediums and sworn enemies of the ancient ghosts known as the Old Ones.
Medium Well, the first book in the Medium Trilogy, is Danny's story, released by Berkley Intermix on February 19.
Buy a copy at Amazon or at Barnes & Noble.
Excerpt:
He slid his fingers along the line of light from her breast to her stomach, the slight roughness of his fingertips feathering across the surface of her skin. He unfastened the clasp of her bra, then pushed it off her shoulders, letting her breasts hang free.
Normally, she might have doubted him, but right then she felt perfect herself. Right man, right night. Perfect timing, too.
She moved backward, feeling the side of the bed press against her legs.
He stepped after her, digging into his pocket, his forehead creasing. "Maybe you could give me a little help here."
"I need to get my wallet out," he muttered. "Condoms."
Biddy slid her hand inside his jeans pocket, her fingers grazing the swell of male muscle.
She felt like giggling, but she had a feeling she wouldn't be able to stop. "Courage, Mr. Ramos. I've almost got it."
"Good." His voice sounded a little choked.
Her fingers closed around the wallet and she pulled it out, rubbing the back of her hand against him again, not entirely by accident.
"I'm counting on it." She grinned. She would have reached for his zipper, but he seemed to be taking care of that himself. Very quickly.
Her grin faded as she stared. God, he was gorgeous! But she already knew that. His shoulders, his chest with the fine spray of golden hair, the tight muscles of his stomach. She knew he'd look like this. She'd always known.
Oh, wonderful, Biddy!
Gosh and golly, gee willikers, some pecs you got there, handsome!
His teeth flashed in the moonlight. "Just what I was thinking."
She wet her lips, staring up at him. He was absolutely ready, judging by his arousal. Was she? What if she wasn't right? What if he didn't like having sex with her? What if? . . .
He leaned over her, pushing her down on the bed, the heat from his body radiating against her skin. "Biddy, if you change your mind now, I'm a dead man."
She placed her hands on his chest, running her fingers through his hair to pinch the flat nipples. "Whyever would I want to change my mind, Mr. Ramos?"
About Meg:
Before I came to Texas twenty years ago, my husband and I lived all around the U.S., including Kansas, Iowa, Washington, Oklahoma, Alabama, Colorado, Massachusetts, and Pennsyvania, with brief visits in California, Connecticut, and New Mexico. In fact, one of my favorite things to do (in pre-gas price hike days) is to travel around the country, preferably off the Interstate.
A couple of years ago my husband took a new job in the Colorado foothills, so I've now relocated to the northwest Denver suburbs. It's a big switch, but my mom grew up on the Western Slope, and she gave me an abiding love of the mountains, so I'm not expecting too many problems (and no, I don't mind the snow).
In Texas I taught English, desktop publishing, Web design, and editing, among other miscellaneous things, before finally retiring after putting in my twenty-five. At the same time, I worked as a freelance writer and editor, on projects ranging from computer manuals to underwater photography books.
My husband and I managed to raise two wonderful sons, along with a variety of cats and a couple of dogs. We still visit South Texas, and we still love to wander around the country when the spirit moves us, although these days we're likely to fly in and rely on public transportation (let's hear it for light rail trains!).
Website
Twitter
Facebook
Pinterest
Email Me
a Rafflecopter giveaway