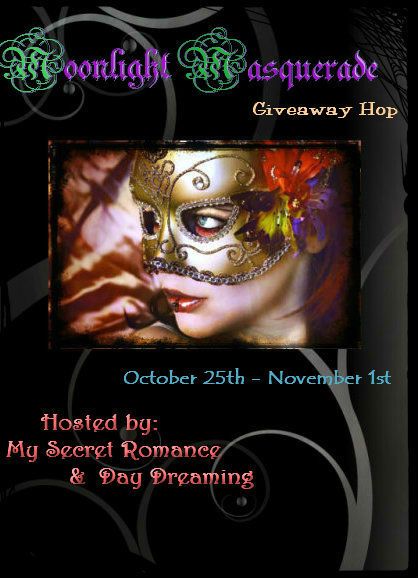 Thanks for stopping by the Moonlight Masquerade Giveaway Hop! This hop is hosted by Day Dreaming and My Secret Romance!
Do you have a secret crush you're afraid to reveal yourself to? Worried they'll be either too sweet or too sour? Does the thought of hiding behind a mask excite you? Would you like to fall under the spell of a brooding dark vampire and let him sink his fangs into? Or how about a sexy shifter built thick and hard that you're just dying to pounce on? Well then, come join us as we celebrate all those things that are wicked on Halloween!
My giveaway by some very cool authors!
Five scorching contemporary erotic tales of ménage love to heat even the coldest Halloween night.
"Thrills and Chills" by Alyssa Turner
"Deployment Gifts" by Jennifer James
"Phantom Pleasure" by Eden Summers
"Taking Candy" by Vristen Pierce
"Trick or Treat" by Ana Maria Pasión
Excerpt from Deployment Gifts:
"Craig Mitchell, you have no idea what you're in for today."
Krista smoothed her hair one last time in the mirror and stepped into her heels. He was in for one hell of a surprise. Today's interlude before he left again for military deployment would stray far from their normal routine. She swallowed hard against the lump forming in her throat and shook her head. No reason to cry about it. She couldn't change the facts.
He had to leave. So she'd give him the best send-off possible.
The left shoe pinched her toes, and she wiggled them until they settled into the heels more comfortably. She and Craig had dated off and on for years. He didn't want a complicated relationship. The hell his army buddies went through with spouses who couldn't handle the long separations left him convinced marriage led to pain, suffering, and misery.
Krista patted the tiny crow's feet forming at the corners of her eyes and then stretched the skin. Pushing thirty. And what did she have to show for it but her own condo and a hot guy who wanted to fuck her when he was home on leave, but not marry her.
It wasn't his fault she'd fallen in love with him. No use getting mad about the fact that she'd spent her twenties pining for someone who didn't want what she did.
"Ready?" Jade asked from the bathroom doorway. Her coffee and cream skin glowed under the soft light from the vanity. Huge doe-brown eyes, full lips and breasts, a tiny waist, and slender hips made Jade a package men and women lusted after. But the best thing about Jade was her wicked sense of humor. Oh, and the fact she approached sex with enthusiasm and a willingness to experiment. When she'd called to say she'd be in town for a few days and needed a place to stay, Krista knew she wanted more than a place to sleep.
"Oh, yeah. Jade, he won't know what hit him." She grinned and closed the space between their bodies. Jade wore a school girl's uniform over white lacy lingerie and four-inch stilettos. The other woman made it look easy, but dancing on stage five nights a week gave her confidence and poise it would be hard to match. Their bodies touched from breast to groin, her nipples hardening when Jade brushed her thumbs over them.
Krista still held a special place in her heart for Jade. Best friends, sometimes lovers—Jade was someone Krista couldn't live without. She'd told Craig the last time he'd been home how they'd hooked up when they were roomies, and his eyes nearly bugged out of his head.
a Rafflecopter giveaway