A message from R.G. Alexander, Eden Bradley aka Eve Berlin, and Robin L. Rotham, members of the Smutketeers!
We have very exciting news to share, so thanks so much for having us here! Lots of smutty books, and one very special spooky, hot read for Halloween, so let's get to it!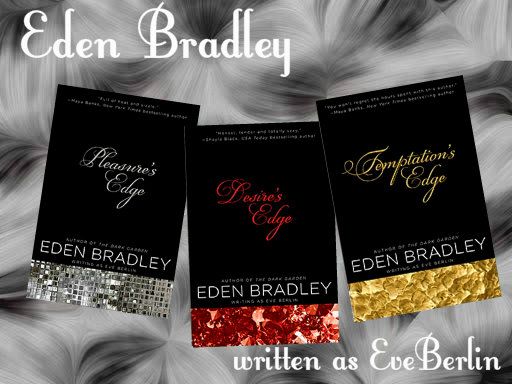 Eden Bradley/Eve Berlin is up first—her 'Edge' books have all just been reissued with sleek new covers, and are in stores now, and available on Amazon and B&N! Some romantic kink to keep you warm-and hopefully HOT-on a chilly fall day…
What happens when you let yourself fall……over the edge…and into temptation?
Mischa Kennon isn't one to take it lying down, at least not until she meets sexy Connor Galloway , a green-eyed Irishman with an air of authority she finds hard to resist. While performing duties as maid of honor to her best friend, Mischa indulges in a casual relationship with Connor. She's surprised by the thrill of his dominance, and lusts for more feisty battles before surrender.
It's all fun and games in the BDSM Pleasure Dome Club, until Mischa realizes Connor could master her heart.
If she gives in to desire, will it be too much to handle, or will it open her to a kind of love she never thought possible?
EXCERPT from TEMPTATION'S EDGE- Warning! This excerpt contains a bit of X-rated smut!
She heard him—sensed him—stepping back, away from her, then there was a pause in which she drew in a long breath and held it. She waited, her skin alive, as though every nerve ending was on high alert. She let her breath out, drew in another. And again, she waited while the music beat a sensual cadence around her. Behind the music were the sounds of other people: voices talking in low tones, sighs, moans of pain or pleasure. The sounds that were particular to this sort of place: The quiet hiss of ropes moving, the clink of metal on metal, the slap of leather floggers.
Still she waited for something to happen. She let her breath go, stopped thinking so much about it. Made a conscious effort to slow her hammering heartbeat. To calm her nerves. To block out the sounds of the club and look within.
Her body was simmering, a low, steady beat of desire. A thrum of anticipation so strong it felt like electricity in her veins. An acute awareness of Connor standing behind her, as if he were almost a part of her body, so that knowing he was there did nothing to pull her back out of herself, away from this inner exploration.
She felt beautiful. Turned on to an almost ridiculous degree. Lost in need.
She let out her next breath on a long sigh. And before her lungs had emptied there was a sharp snap in the air and an even sharper sting on the left cheek of her ass.
"Oh!"
It was followed immediately by Connor moving in to cup his big palm over the sting.
He didn't say anything, just stepped back after a moment and hit her again.
This time she was less surprised by it. More able to let her body sink into the sensation. A small crop, she thought, from the light weight of it on her flesh. He hit her again, a little harder this time, and for some reason it made her smile.
Oh, this is where we really get into it.
It was what she wanted. Needed.
Another stinging rasp, then another. He was picking up the speed, working in a criss-cross pattern over her buttocks and thighs. With each stroke pleasure rose, as though embedded in the stinging sensation itself. She was squirming just a little, just enough to absorb the impact, to ride out the surges of pleasure.
He began to hit her harder. Harder and harder, until she was breathless with it. Finally, one really hard nick with the leather tip of the crop and she cried out.
His arms were immediately around her waist, his enormous body pressing into her from behind. His hands went to her breasts. He caressed them lightly, his fingertips dragging over her skin, then circling the nipples.
"You're doing very well," he whispered into her hair. "Amazing, to see the way you respond. Just like this…"
He pinched both nipples with hard fingers, and she jumped, her eyes flying open.
A low chuckle from him. "Ah, I love to see that. I love to bring you pain, almost as much as I love to bring you pleasure."
His hand smoothed down, over her belly, between her thighs, where he found her clit right away. She arched her hips into his hand as he rolled the rigid flesh between his fingers.
"Tell me, darlin', are you wet for me?"
"Yes," she gasped.
"I'll have to see for myself." He slipped his hand into the wet heat between her thighs, his fingers pushing inside her. "Ah, beautiful."
"Connor…"
"What is it?"
"I need…more…"
************************************
Wicked Release is the third book in the Wicked3 series, following Wicked Sexy and Wicked Bad, and it continues the Abbott family storyline…as well as leaving a mystery to be solved and a return of some familiar lovers in Wicked Dangerous, coming in January 2013.
Blurb
When you've waited centuries for release…will three be the magic number?
Cursed for hundreds of years by a rejected suitor and an ultimate betrayal, Sarah Blackwood has had plenty of time to plan vengeance…and escape. When she sensed a magic that called out to her own, she instinctively drew it to her, desperately hoping it would be her way out.
She never expected what happened next.
Con and Lorie have always known their Triad was incomplete. They didn't realize the woman they'd been waiting for had been born over three hundred years too early, or that a twist of magical fate would bring them together at last.
Sarah has sworn vengeance on all the families involved in her imprisonment, including the Abbotts. Will she use her unique abilities to destroy them all, or will the two men she can't seem to resist convince her–with a little help and a lot of kink–that love is the best revenge?
Warning: Explicit Menage Sex. Sex in the grass and sex in a chair. One magical mirror sees sex everywhere. A little spanking, a little kink and the dirtiest magical threesome in the land.

Excerpt
The cool air in the room washed across the revealed skin, making her blush. She was high enough that she could look into Lorie's enchanting eyes and feel Con's chest pressed against her back. This had to be a Magian invention. Surely no human would invent something so obviously designed for sex. They were too tightly laced for that.
She held on to the thick ropes that the chair dangled from, watching them securing her legs and the soft but snug swath of fabric beneath her breasts. She wanted to beg them to hurry. Demand that they lie on the bed while she had her way with them. But she couldn't focus. A haze had fallen over her and all she knew was sensation.
Every scrape of her back against the strip of chair or the light smattering of curls on Con's chest jarred her sensitized skin. Each gliding caress of Lorie's knuckles as he attached the harness made her ache for more.
She was glowing with need, aware that she'd already changed on some fundamental level. Knowing that what she felt was nothing compared to what she would experience once they were finally joined as one.
How could she deny herself when she wanted these men more than she'd ever wanted anything? Even revenge. It was terrifying to admit, but it was true. At this moment they had her, body and soul to do with as they would. Heaven help them.
"I think she's ready, Con," Lorie's voice was whiskey raw. "And I know I am."
She looked over her shoulder in time to see Con smile and shake his head. "Not quite yet, my friend. Sarah and I have a few things to straighten out first."
Her eyebrows furrowed in confusion. What things? What did he mean? "Conway?"
"Sarah?" he mimicked playfully, his hands lowering to cup the cheeks of her bare bottom. "Planning on taking what you want from us and trying to run again?"
"No!"
He lifted one hand and smacked her left cheek firmly, forcing a shout of surprise from her throat. "Just checking. I'd hate to feel used. Hate to give myself, my magic to you completely, only to have you dismiss me when something more important comes along."
Her right cheek got the same treatment, the stinging sensation causing her sex to tingle uncontrollably. "I won't. I'm not using you. I swear."
She heard the crack of his palms on her flesh, felt the heat spread throughout her body. "I said I swear. My oath."
His laugh was sexual. Mischievous. "I know you did. And I believe you, baby. This isn't punishment anymore. Not really. Especially since I can tell you like it. Your magic is giving you away."
She looked down at her body and saw the arcs of energy whipping around her like vines of light, causing havoc to her senses. She knew there were Magians who enjoyed experimenting with their partners. Knew that magic was used to enhance the experience. But this? His actions were making her desperate, making the chair swing with her agitated movements. "Why?"
Lorie came closer, his hard cock gliding along the top of her thigh. "Why do you like it? The sting can make the kiss that much sweeter, Sarah. We are a triad, brought together because at our essence, we're the same. And there are no limits with us. There are no boundaries you can't cross. If you enjoy it, it brings us pleasure as well."
She heard him, but it was still hard to comprehend. She was too aroused. "Please, Lorie. I need you to touch me. Conway, can he touch me now? Take me?"
Lorie's groan was low and long. "As if he could stop me."
He stepped closer between her widespread thighs and cupped her face with his hands. "You're here. You're finally here." He bent his head, tasting her mouth, gently at first, as if he believed she would melt away.
She spoke softly against his lips. "I'm here. I need you."
He shuddered and his kiss deepened, until their tongues were tangled in battle, teeth nipping sharply, eager for more. His lips were addictive. She sucked the lower lip that had tempted her into her mouth and he moaned in approval, his hands sliding down her neck to caress her sensitive breasts.
When his palms scraped against her hard nipples she let go of the rope and covered them with her own, using her fingers over his to squeeze. To pinch. Yes. The sting. That was what she wanted. The sting that made the kiss sweeter, he'd said. He didn't have to be careful with her. She could take whatever he wanted to give and more.
"Hell," he muttered. "You do like it a little rough, don't you, Sarah? Con is right. You're a wild thing."
"Yes." She was frantic, ready to agree to anything as long as he kept touching her like that. "Fuck me, Lorie." Her face heated at her shameless demand.
"I can't wait."
Her triad had made her a harlot, but it didn't matter. She'd taken him in her mouth, now she wanted to feel him deep inside her. Wanted to know that Con was behind them, watching every move. She wasn't sure where her aggression was coming from. But time was slipping through her hands. She didn't have much to waste.
Lorie made another sound of pained agreement before he aligned his cock between her thighs and thrust. Her wet sex was already swollen with passion, sensitive from her earlier tussle with Con. It was a tight fit. Perfect and tight.
"Sarah. Sarah, sweetheart...Mine" He pushed through until his hips were pressed against hers and they both shuddered out a moan. Lorie raised heavy lids to glance over her shoulder. "Ours, Con. She feels like ours."
"I know." Con's words were soft. Thoughtful. "Claim her, Lorie. Claim our woman. Let me enjoy the show."
His words made Sarah's inner muscles clench around Lorie's cock. "Oh," he huffed out a laugh. "I think she likes it when someone's watching. Something else we'll have to remember for later."
She couldn't move her legs, couldn't wrap them around him and pull him closer. "Don't torture me."
"She doesn't like teasing," Con said, that mischievous smile in his voice once more. "She likes to be fucked, Lorie. Well and truly taken. No holding back. Show her how much you want her."
Sarah watched something darken and snap in Lorie's intense blue eyes and then she was lost, crying out again and again as every thrust of his erection filled her completely. The chair was rocking with the power of his hips, only Con's hands on the rope; his torso burning into her back held her steady.
Lorie chanted her name like a prayer, his gaze wild, eyes dilated. Her beautiful fallen angel. Hers. Completely. His magic enfolded her and with it his sense of knowledge that this was real. This was right where she needed to be.
Something shifted behind her, and before she knew what was happening, she felt Con's lips on the cheeks he'd just spanked. His teeth scraped along one, tingling curve before his tongue came out to stroke the next. He was letting Lorie's thrusts rock her against his face, his hands holding her hips steady as he licked the seam of her—"Conway?"
Lorie's movements didn't slow, but he smiled. Did he know what Con was doing? "I knew he couldn't stay away. It's not in his nature not to have at least one finger in the pie."
She felt Con's breath as he chuckled against her skin. "Finger, tongue…" he mumbled. "What's the difference?"
My Vampire Idol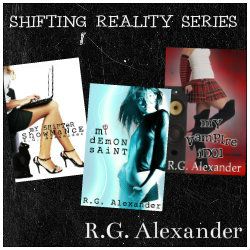 My Vampire Idol is the third book in the Shifting Reality series, following My Shifter Showmance and My Demon Saint.
When a vampire who's determined to lay low meets an exhibitionist with a dangerous secret and a large family…well, you'll see.
Coming November 8th 2012
And at the end of November, look for The Smutketeers Present: A Kinky Christmas Carol novella series!
****************************
Blurb:
A scientist with an obsession. A protégée with an agenda. And a surgeon with needs too long denied…


Vascular surgeon Dr. Rachel McBride knows she'd be insane to pass up a prestigious fellowship for the chance to work on Julian Kilmartin's cutting-edge research project. The reclusive neurologist has been the object of her submissive daydreams since residency, and time and distance have only strengthened the dark compulsion.
To complicate matters, a former lover who was all too aware of her attraction to Julian is also on the team. Charmingly obnoxious Dr. Colin Carter was Julian's protégée back in the day, and nothing appears to have changed…or has it? There's an earnestness to Colin now, an urgency she's never seen in him—and he claims her desire for Julian was reciprocated but deliberately left unfulfilled.


When she takes the chance and travels to eastern Europe, Rachel discovers that research is only part of her job description—and submission is only the beginning of the sexual excesses Julian and Colin will demand from her.


But when the unthinkable nature of Julian's research project is finally revealed, Rachel is ready to run from the men she thought she knew. Securing her cooperation will take a touch of coercion, a bit of bondage, and all the erotic torture two deliciously deviant doctors can apply.


Reader Advisory:

You should assume any Robin L. Rotham book contains BDSM elements, anal play, and every possible ménage à trois permutation plus occasional spares. Additionally, FrankenDom contains mad scientists, real dungeons, whips, chains, spanking, a variety of taboo fantasies, mild puppy play, electrical devices in uncomfortable places, humor, and an intimidating ratio of sadists to masochists.
Excerpt :
October 13
When someone pounded on my apartment door like they meant business, I fumbled one of my mother's second-best teacups and almost dropped it.
Movers. Couldn't they just knock like normal men?
I'd ignore the rude summons but I needed boxes too badly. Fresh from my residency, I was thrilled to be joining the Early Vascular Institute all the way across the country in Maryland. The offer was beyond anything I'd dared to hope for.
Not that I wasn't a damn good surgeon, but the competition was stiff and we all knew it took more than surgical skill to start out at such a prestigious practice. Connections were everything, and not only was I far from adept at making them but I'd never been comfortable taking advantage of the few I had, so why cultivate more?
Nevertheless, after three relatively painless interviews, the vascular surgery fellowship at EVI was mine and I'd thrown myself into getting moved at least two weeks before my official start date so I had some time to acclimate to the east coast.
Wrapping the cup in newspaper before it got broken, I laid it gently in the box and brushed off my hands.
"I'm glad you're here," I said as I threw open the door. "I need some… Colin?"
He grinned. "I'm just in time then." When I blinked at him in shock, the grin widened. "Good morning, Rachel."
"I thought you were the movers," I said blankly. The last time I'd been this close to Dr. Colin Carter, he was pulling his underwear up over his spectacular ass. Why was he standing on my doorstep five years later, fully dressed in blue jeans and a black leather jacket?
He looked into the living room. "May I come in?"
After a moment's hesitation, I stood back, tugging self-consciously at the stretched-out hem of my faded purple UW sweatshirt. Then I glanced at the living room, which was a shambles and not just because I was moving. Organization had never been my strong suit. Boxes and books and stacks of medical journals made an obstacle course of the floor, and piles of paper covered every horizontal surface.
I flushed. "Sorry, I wasn't really expecting company. It's a bit of a wreck."
"Not a problem." He wrapped one arm around my shoulders in a loose embrace and brushed a kiss over my cheek before walking past.
My lungs collapsed in a nostalgic paroxysm of pure lust, leaving me practically gasping in his wake. Oh God, he still smelled like…Colin. Wind and leather and unrepentant sex—mind-bendingly dark sex that satisfied me on some unfathomable level even as it left me craving more.
I was wet and ready to go in an instant, something that hadn't happened in a depressingly long time.
Feeling exposed, I demanded, "What are you doing here?"
He turned, wearing an ironic smile, his hands in his pants pockets. "Never were much for small talk, were you? Just…" His blue eyes skimmed down the front of my body. "…get right down to business."
"Please do," I said acidly as heat gushed into my cheeks. "As you can see, I've got a lot going on."
"You certainly do," he murmured, his gaze fixed on my breasts as if he'd never seen a pair before.
I crossed my arms. "Colin!"
When he dragged his eyes up to mine, the feral hunger radiating from them took my breath away.
Then he blinked and all I saw was the gleam of a challenge. Had I imagined it?
"All right," he said portentous tone, "I'm here to offer you a fellowship."
My eyes just about popped out of my head. "Really? You leave town without a word and show up unannounced five years later to leer at me and then offer me a fellowship? Gee, how can I resist? Oh wait, I've already got a fellowship, so fuck off, Colin."
"Not like this one. Trust me, Rachel, you want this one."
Reluctantly intrigued, I scowled. "What's so special about this fellowship?"
"You'll be working with Julian Kilmartin."
Everything in me stilled. Julian. I hadn't seen him since before Colin left, and yet even now, his name alone had the power to make me…pliable, somehow. Boneless.
Obviously I still had a weakness for arrogant young doctors.
For more information on these authors visit their group
website at
Smutketeers.com

3 Prize Packs - Giveaway ran through Rafflecopter Winner will be drawn on 11/1 and will automatically post winner on 11/1. (International Giveaway)
1 - $10 Gift Card Amazon or B&N Plus 2 ebooks by Eden Bradley Sanctuary & The Seeking Kiss
1 - $10 Gift Card Amazon or B&N Plus 2 ebooks by R.G. Alexander Wicked Sexy & My Shifter Showmance
1 - $10 Gift Card Amazon or B&N Plus 2 ebooks by Robin L. Rotham BIG Temptation & Carnal Compromise
a Rafflecopter giveaway