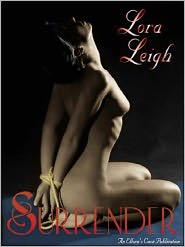 Ashamed, Tess Delacourte has ran from the dark,
sexual desires
that lie within her. Her parents divorced due to her mother's inability to handle her father's depraved needs. The apple doesn't fall far from the tree however. Tess is a woman wanting and needing to be dominated.
Ever since Cole Andrews cornered her at a party and let her know explicitly what he wanted to do to her, she hasn't been able to get him out of her mind. She is well aware of the rumors of his sexual escapades and dominance. But she's afraid of both him and herself. Is she truly her father's daughter?
Tess promised to spend the week at her father's estate for an upcoming party. However, after arriving and settling in she learns her father and step-mother are out of town. Cole has arranged to spend the week alone with Tess. She can no longer hide and avoid him. But, she won't give into him so easily. She taunts him before heading up to her room for the night. Tess awakens to find herself bound in her bed with a very naked Cole sitting next to her.
Cole has let Tess run long enough. His patience has worn out. He is going to make her face her desires and accept what she needs. He's warned her. She is well aware of what he wants from her. What he needs from her.
Surrender is book 1 in the Bound Hearts series. It's a very short read, but if anyone is familiar with Lora Leigh you know it's a hot one. Tess loves Cole, but fears she'll just be another body in the bed to him. With that in mind she dives in and faces her deepest desires. Putting her trust in Cole, Tess finds the strength within herself to accept what she wants and what Cole has to offer. These two are hot together. I wish the story was longer, but it was a great introduction to the series.