Hello, My Sweets and welcome to the next stop on the Kissin' Tell Kick Off Hop! How exited are you all for this? I know I am! I love this series something fierce and I can't wait for this book to come out. Today I have a review of Chasin' Eight, an interview and two giveaways.
Gah...I LOVE the cover of Kissin' Tell!
I
want to start off by saying thank you to ladies at Under the Covers and Guilty Pleasures blog for hosting this blog tour. You ladies rock!

When I first heard about Lorelei's Rough Riders series it was through a friend of mine, Sophie. She was just smitten with these books and insisted I read them. I said, "Cowboys? No thanks" and went on my way. Well, the next thing I knew she was gifting me the books on my kindle saying, "Please, T, just try them! You will love them! Have I steered you wrong yet?" And so I did...and I fell absolutely head over heels in love with this series. I mean, who knew cowboys could be so damn hot?? Not only are these books smokin' with a realistic storyline, they've got a great focus in all the books- family. It's all about family with these books. A family who accepts each other for who they are and loves them unconditionally. They're there for each other when the going gets tough...and it sure gets tough for some of them. But that's what I love the most about these books- the McKay family dynamics.

There's one book review from the Rough Riders series I want to feature on here today and that's Sophie's review of Chasin' Eight. I loved it when I saw it posted almost a year ago. She poured her love and soul of the book into her review and I feel like it's one that should be shared. Her review shows how much a book can affect someone so deeply. I love when that happen. If it wasn't for Sophie, I would have never found this series, and that would be a cryin' shame.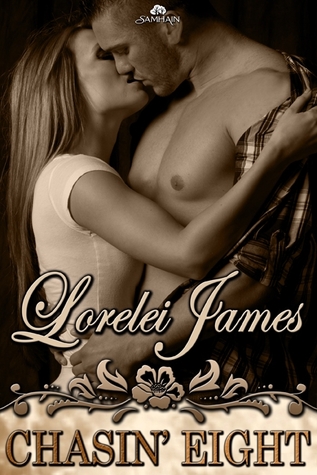 Sophie's Review of Chasin' Eight
I had three different thoughts that came to me on the morning of 6.28.11 when I woke.
The first thought was: I LOVE AMAZON KINDLE!
My second t
hought: I love Lorelei James because she writes such cool books!
My third thought: I can hardly wait the sixty seconds it takes to download a kindle book
to start reading Chase McKay's story!
I started
at 6:00 a.m. PDT on June 28, 2011 and finished at 12:32 p.m. PDT on June 29,
2011. Of course, I paused to sleep,
eat and shower. But I could have stayed awake all night if I didn't have to
work the next day. In the end, I concluded that this was one of the BEST books
I read in 2011. If you ever ask me, I will repeat it once, twice and as many
times possible: THIS IS AN ABSOLUTE WINNER!
Without
turning the whole review into a spoiler, I want to point out some interesting
things this book has that I didn't find in her previous ones:
As Lorelei James stated
in an interview I once read, "This book is different from the rest". It is. Not
only because it's not her average friend-lust-passion book (like others)
but because it really gets into the psyche of each character. Chase
realizes before he hits his 30 (and a brick wall) that he
MUST
turn his life around and fix his behavior. This will also help the very determined Ava show the world she's more than a
Hollywood bimbo.
The way you learn about the western cowboy life is beyond incredible. I think I've learned
more about cowboys in a day and a half reading this book than I could've
by watching a year full of cowboy events on TV. (If I were ever able to find
live cowboy events on TV here in L.A).
The amount of reading you
have to complete in order to finally get to a "hot steamy scene" in
my opinion is the correct. More than erotica, this is a ROMANCE book. She
wanted to show her readers that she can absolutely build up an expectation.
Many will say, "OMG HOW COME SHE TOOK SO LONG, IT WAS BORING!" well I
have to disagree. She kept me guessing what would happen next. If you are
an avid romance reader, you will find this twist in her style very welcoming.
It was just the correct amount for the correct time.
I just knew some day she
would finally venture out of the Wild West to a big city. I just KNEW IT. I
simply worshiped her for the turn in the story when they got to the big city. From the moment they
land and all the fun they had, until they finally have to part. Each character
had a taste from each other lives, and BOTH fitted accordingly.
The way the drama was
involved, how the sad parts were exposed and the way how a great sense of
humanity was projected from certain tragic events, was possibly the most
realistic part she has written along all her books. I cried, literally. In the
morning while reading this on my way to work I could not hold back my tears.
I cried because what she described was absolutely true. It could happen to
anybody.
And finally, even though
I do appreciate the knowledge, drama, romance and passion, I also appreciated
the human part. The real contemporary life she has described. Ava's character
is a resemblance of the real deal for many spoiled kids who not necessarily
have to be rich and famous but can be as simple and down to earth as any other
mortal.
Mrs. James, if you ever read this, (which I
highly doubt, but don't lose faith of) please know, that your stories have
brought back to me a piece of human basics that I probably had lost long time
ago. Each book of yours has had a message for me. Besides the fact that LOVE CAN OVERCOME
IMPOSSIBLES, they also point out it doesn't have to come from where you're
eagerly looking for it, but from some place you could never expect; which
is exactly what happened to Ava and Chase.
Because I was so happy (and curious) to learn
about Cowboy culture, I was lucky to assist last year to the 25th Annual Industry Hills Pro
Rodeo, (http://www.industryhillsprorodeo.org/) sponsored by the PRCA
(I know what it stands for now!). I took my nephews and they just LOVED all the
events. So yes, Mrs. James's books are not only a treat for all of us her loyal
fans and avid readers, but they are also a bridge to learn a little bit more
about our all American culture- hot cowboys included.
Lorelei was very wonderful in allowing us each to ask her a few questions for the blog tour. Here are the three chosen to ask. I must say, her response to the third answer is my favorite. It gave me goosebumps!

1. I fell in love with the way you described the ranch life. How much of these stories or events are based on your own life?
Very little. I'm a wannabe cowgirl. We have friends who are ranchers and I love spending time with them, on their ranch, and it's always an inspiration. I usually tell people I'm all cowgirl boots and no cattle.
2. I know some of the characters can be challenging and others are fun to write about. With all the characters in the Rough Riders world, which has been your favorite above all?
I honestly can't pick one, it's like asking if I've got a favorite child. They're all so different, they all drove me crazy at one time or another in the creation of their story arc and growth. Keely McKay was a surprise—she sort of blew onto the page in all her wild child glory and I had a blast working with the lone McKay girl.
2+ Which was the most challenging?
Trevor, Edgard and Chassie's story was the most challenging to write, because I hadn't planned for Trevor and Edgard to end up together at all. So letting sweet, wonderful Chassie be the bridge that brought them all together was a big task for me and I wasn't sure I could pull it off and that's scary.
3. What is something you would want readers to take away from your books?
That there is no right way or wrong way to love. Take control of your sexuality, regardless of your age. And what happens behind closed doors between two consenting adults ain't no one's business but yours.
Ok, my sweets, here are the deets for this stop on the hop. You must leave your answer in the comment section to be entered in the drawing. Lorelei is giving away a romance trading card sets and "Official McKay Buckle Bunny" buttons on all the stops. There will also be a GRAND PRIZE at the end. So make sure you go back and check out all the other stops....in case you missed them. How cool is that? That Buckle Bunny button sure does sound cute! The prize My Secret Romance has offered to giveaway is an ebook of Chasin' Eight. If you already have that one, then we will give away another Rough Rider book of your choice.
QUESTION- Which book was the most moving of the Rough Riders series for you?
PLEASE LEAVE YOUR EMAIL ADDRESS. IT IS THE ONLY WAY I WILL BE ABLE TO CONTACT YOU IF YOU WIN. THANKS!
This Rafflecopter must be filled out in order to be entered for the GRAND PRIZE.