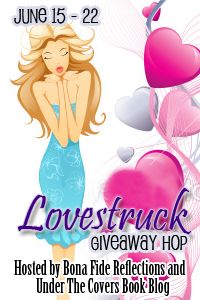 Love-struck:
(adjective) having a passionate or overwhelming feeling of love; smitten
Is there a book or a series that you have read which has left you completely smitten? A hero/heroine that makes other heroes/heroines pale in comparison to the feelings you have for your "true" love? Are you left feeling dissatisfied because there is just nothing else that can compare?
First of all- Thank you to the ladies from Under the Covers and Bona Fide Reflections for putting this hop together! xoxo
Why, yes, yes there are! There are quite a few books that have left me Lovestruck. Too many to name actually. There is one book that stands out more than others for me- it always has. I love this book something fierce....but since I've already given it away I'll give another book/series I'm so totally smitten about away. :)
Anyone a Pamela Clare fan? If not, then do yourself a favor and check her out. She writes Romantic Suspense and Historical Romance- and she does it well. To be honest, I'm not a huge Romantic Suspense fan, but Pamela Clare is one of the very few I will read. I feel like Pamela has it all so I don't need to look anywhere else. I buy her I-Team books the day of release. There is no way I can wait for it to come in the mail. Nope. I have it ordered and waiting for me at my local bookstore.
Here are a few of the books I am offering for my giveaway with a little sneak peak~
It's been years since her child's father dumped her, and since then investigative reporter Kara McMillan has kept men at bay—although every day she aches more for a lover's touch. But to get that, the hard-boiled journalist must become vulnerable—a feeling she vowed never to have again.
With his dangerous good looks, charm, and power, Senator Reece Sheridan could have just about any woman he sets his piercing eyes on. But he's intrigued by only one. This Kara, this gutsy investigative reporter, has a sensuality that arouses him to no end. If she's a firebrand in print, he guesses, she must be just as fiery in bed…
But this is no fling. A sudden political scandal—and attempts on Kara's life—could very well drive them apart. Or maybe, just maybe, adversity could draw them into a bond even more intense than their steamy sexual embraces…
While investigating border violence in Ciudad Juárez, Mexico, Denver journalist Natalie Benoit is caught in a bloody ambush and taken captive. Alone in the hands of ruthless killers, she will need every ounce of courage she possesses to survive.
Betrayed by another operative, Deputy U.S. Marshal Zach McBride has endured a week of torture and interrogation at the hands of a bloodthirsty Mexican drug cartel. Ready to give his life if he must, he remains unbroken—until he hears the cries of an American woman.
Although Natalie is only a voice in the darkness of their shared prison, her plight brings renewed strength to Zach's battered body. With her help, he overpowers their captors, and they flee through the desert toward the border, the attraction between them flaring hotter than the Sonoran sun.
But past loss and tragedy leave both of them reluctant to follow their hearts, even when the passion between them reaches its breaking point. Faced with feelings neither expected, they fight to stay ahead of the danger that hunts them as forces more powerful than they can imagine conspire to destroy them both…
Broken on the inside
Megan Hunter has worked hard to get back on her feet, leaving the nightmare of her teenage years behind. The last thing she wants or needs in her life is a man. But when she is attacked by someone from her past, a scarred stranger intervenes, saving her life and that of her little girl. Looks can be deceiving, for despite the man's rough appearance, she feels safe with him. And for the first time in her life, she knows the stirrings of desire.
Broken on the outside
Nathaniel West paid a high price serving with the Marines in Afghanistan. He returned to his family's ranch in the Colorado mountains to heal—and be alone. Disfigured as he is, he has put all thoughts of sex and romance aside. But something about Megan brings him back to life, heats his blood, makes him feel like a man again. As danger pursues her, and the truth about her past is revealed, he vows to protect her—and to heal her wounded spirit.
But confronting the past is never easy—especially when it's carrying a gun. Megan will have to learn to trust Nate to survive and to claim a passion that is much more than …
Skin Deep
.
One of my favorite lines~
When I realized I was going to die, the only thing I could think about was you and what an idiot I'd been for not telling you how I felt about you. I think I've loved you from the moment you lifted that awful blindfold off my face. I opened my eyes, and there you were, the bravest, most beautiful woman I've ever known. You set me free Natalie. In so many ways, you set me free.
Now that you've seen a sneak peak of each book, leave a comment telling me which book you'd like to win the most. One winner will be chosen using random.org to win their choice of book. The only thing I ask of you is to
LIKE MY FACEBOOK PAGE PLEASE
. Please leave your email address in your comment.
If you do not leave it then I will have no way to contact the winner. Thanks and good luck!