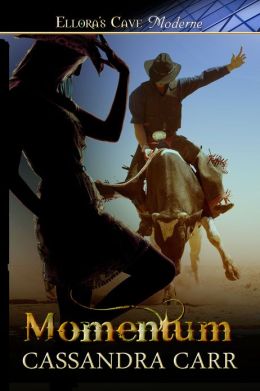 Momentum is the third book of the bull riders series. I must admit I did not read the first two but from what I took of it you wouldn't need to read them in order to follow the story line so I'll definitely will be checking out the first two.
Marco has a perfect blend of Italian charm with just enough roughness to make him that much dreamier. He doesn't want anything to do with the family olive oil business much to his parents disappointment. He wants to make a name and life for himself. He does this by riding bulls.
Natalie has lost everything in her life. Her mom ran away with a family ranch hand years ago, her father passed away six months ago and she lost the ranch to help pay the family debt. Her father did not tell her they were barely making it and she didn't realize how bad they were off. She used to ride broncos when she was younger, now she's going around the circuit to find help cause she wants to ride bulls. This was her fathers dream if he would have had a son and she wants to honor his memory by doing this.
Marco and Natalie meet at a competition and he is immediately drawn to her blonde hair and blue eyes while she's drawn to his dark good looks. They immediately connect but it takes a while for the chemistry to explode. He's a complete gentlemen with her. He loves to provide for her and it takes time for her to get use to this since she's been living on her own for a while now. Their love is put thru obstacles but they come out together in the end. All in all Momentum is a short, easy and sweet read.