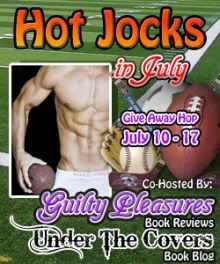 Do football or baseball butts drive you nuts? Do you love to see sweaty men chasing after each other? Tackling each other? Does the sight of a pair of sexy calves kicking a ball down field heat you up? Do NASCAR drivers rev your engine?
Thank you to
Guilty Pleasures
and
Under The Covers
for hosting this hop!
Alright My Sweets, are you ready for some locker room talk about some of our favorite JOCK of romance? So am I!
I bought the first two books in a sports themed series recently. It's the Play-by-Play series by Jaci Burton. I haven't read them, but I will soon...hopefully this year. LOL I know these are favs among readers so I will giveaway the first book in this series in paperback.
Football pro Mick Riley is an all-star, both on the field and in the bedroom. But a sexy, determinedly single mom just might be the one to throw him off his game...
For years Mick has been taking full advantage of the life available to a pro athlete: fame, fortune, and a different girl in every city. But when he meets and beds confident, beautiful event planner Tara Lincoln, he wants much more than the typical one-night stand. Too bad Tara's not interested in getting to know football's most notorious playboy any better.
As the single mother of a teenage son, the last thing Tara needs is the jet-set lifestyle of Mick Riley; even though their steamy and passionate one-night stand was unforgettable. Tara's life is complicated enough without being thrust into the spotlight as Mick's latest girl du jour. Tara played the game of love once and lost big, and she doesn't intend to put herself out there again, especially with a heartbreaker like Mick.
But when Mick sets his mind to win, nothing will stop him. And he has the perfect play in mind.
Here's what you have to do-
Since I haven't read any sports themed books yet, I would love to know yours. I'm surprised I haven't read any yet to be honest considering I was always been pretty athletic.
Leave a comment letting me know which ones you would recommend. You also need to LIKE MY FACEBOOK PAGE and follow me via email.
This giveaway is for US only. Please do not forget to
LEAVE YOUR EMAIL ADDRESS WITH YOUR COMMENT
. It will be the only way to contact the winner.
Thanks and good luck!!