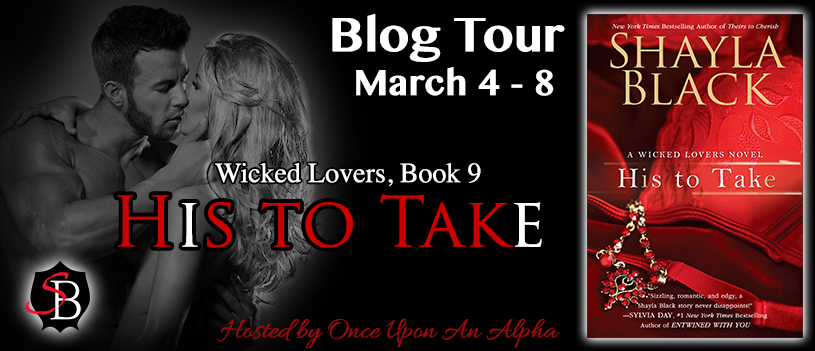 Racing against time, NSA Agent Joaquin Muñoz is searching for a little girl who vanished twenty years ago with a dangerous secret. Since Bailey Benson fits the profile, Joaquin abducts the beauty and whisks her to the safety of Club Dominion—before anyone can silence her for good.
At first, Bailey is terrified, but when her captor demands information about her past, she's stunned. Are her horrific visions actually distant memories that imperil all she holds dear? Confined with Joaquin in a place that echoes with moans and breathes passion, he proves himself a fierce protector, as well as a sensual Master who's slowly crawling deeper in her head…and heart. But giving in to him might be the most delicious danger of all. Because Bailey soon learns that her past isn't the only mystery. Joaquin has a secret of his own—a burning vengeance in his soul. The exposed truth leaves her vulnerable and wondering how much about the man she loves is a lie, how much more is at risk than her heart. And if she can trust him to protect her long enough to learn the truth.
At times when a series has gone as long as this one has, as a reader you wonder if the story will be as good as the previous ones, or if the series has finally began to go downhill. Well I can assure you that His To Take is just as great as the rest of this series and Ms. Black hasn't lost her touch in writing some super sexy alpha males and some panty melting sex scenes.
I love how even though each book is a new couple we still see a huge presence with the characters of previous books and we can see how their lives are continuing on. Plus well I just love all these guys and want more any chance I can get of them.
I also loved watching Jaoquin explore and come into his Dominant side. Don't get me wrong this man is 100% alpha but when he is able to channel that alpha into Dominance it was just one of the things that I loved about this book. I also really liked Bailey and for me that is a huge thing especially lately. I tend to not always like the heroine in a book for some reason or another but I really like Bailey. Then again Ms. Black knows how to make her readers love her characters so I shouldn't have been surprised.
There is also the perfect amount of suspense that we have come to expect and love with this series. More and more I am wanting that suspenseful element in what I read, it keeps you on the edge of your seat and I really like that. I won't even tell you how many times I looked around for my husband during some of the sex scenes, well because it would be a little embarrassing as to the number lol.
Shayla Black could continue this series forever and I don't think I would be let down. His To Take is a read that will enthrall you, make you squirm in anticipation, leave you panting wanting more and will have you loving Jaoquin and wishing he was your man. His To Take is book nine in the series and if you haven't read any of the previous books I suggest you pick them up and see why these men are as sexy as they are.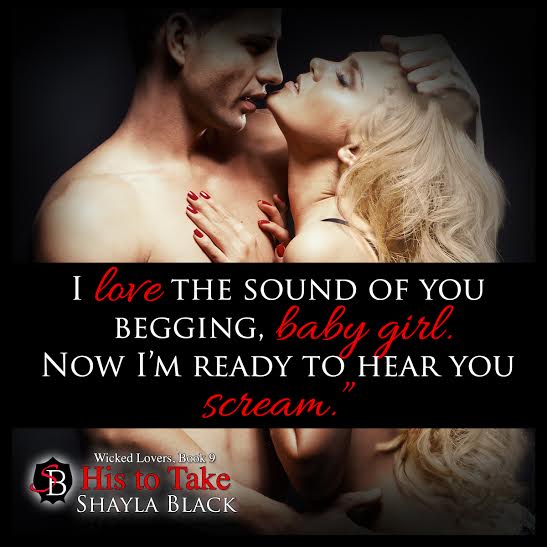 **** WICKED LOVES SERIES ****
* A *Signed* Copy of Forever Wicked & A *Signed* Copy of Theirs to Cherish by Shayla Black*
You know what they say about curiosity and the cat…but if you still want to know, read below. Shayla Black (aka Shelley Bradley) is the New York Times and USA Today bestselling author of over 40 sizzling contemporary, erotic, paranormal, and historical romances produced via traditional, small press, independent, and audio publishing. She lives in Texas with her husband, munchkin, and one very spoiled cat. In her "free" time, she enjoys reality TV, reading and listening to an eclectic blend of music. Shayla's books have been translated in about a dozen languages. She has also received or been nominated for The Passionate Plume, The Holt Medallion, Colorado Romance Writers Award of Excellence, and the National Reader's Choice Awards. RT Bookclub has twice nominated her for Best Erotic Romance of the year, as well as awarded her several Top Picks, and a KISS Hero Award. A writing risk-taker, Shayla enjoys tackling writing challenges with every new book. Have something to say?
Contact
Shayla or visit her on her
Facebook
page.