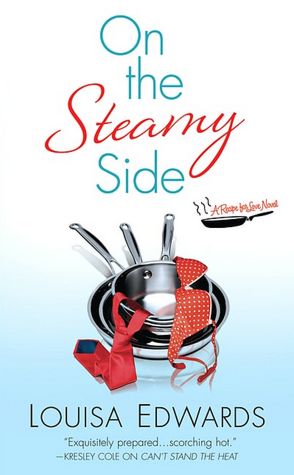 5 Stars!
Amazon link-
On the Steamy Side by Louisa Edwards
The BEST recipe for love: A Southern Belle and a City Chef! What a HOT AND EXPLOSIVE COMBINATION!!!! Mrs. Edwards, I have to say this: You have a gift. A very talented gift with a way of making the reader think it's a movie script that I feel totally numb. This was a treat! A very delicious treat!
The secret of this book, lays not only on the absolutely fun and fast paced relationship between Lilah "Lolly" Jane Tunkle and Devon Sparks, but in all the elements revolving around them. Devon is the portrait of a successful guy who achieved everything he set his mind to. But as the rest of the story shows, he lacks the most essential ingredient for every human being: family love and affection. And Lolly, though being an orphan, had it all her life and knows the perfect way to a man's heart.
I think the way Devon approached the situation with Tucker is heart melting. He does love his son. You can just tell. Of course, he doesn't know how to show this love and the fact that Lolly encourages him is just outstanding. I loved Tucker. He played an important role in Devon's determination to change though he doesn't really know how to show him his love either. Remember, a kid with no record of love and affection is hard even in real life.
We also learned about Frankie's insecurities. You just KNOW he loves Jess! But you also find that in many real gay relationships (and straight ones too!) they're doubts about age, occupations, friends, and many other things that might cloud your head. I'm just waiting to read the third book to see what Jess does about it, because yes, YOU WANT HIM TO GET BACK WITH FRANKIE, and also, YOU WANT FRANKIE TO ASK JESS TO FORGIVE HIM.
I loved this book. Need I say more? :)