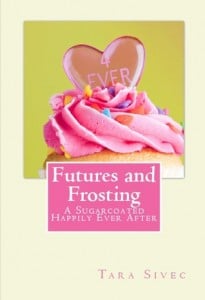 Warning:
This is probably going to be the shortest and lamest review that I've ever written. ...But what can I say? Waking up early for work to sneak behind my bosses backs and read page after page of this book from start to finish, takes mad skill which really took its toll on me.
This book was genius. Pure genius.
Futures and Frosting definitely measured up to its predecessor,
Seduction and Snacks
! (Not that I had any doubts in the first place.) This book had everything in addition to its hilarity- An amazing supporting cast, incredibly crude and dirty behavior, mind-boggling conversations, sizzling scenes, and a sweet love story behind all the humor!


I'm not going to go into any detail in this review, only because it will more than likely just be filled up with nothing but hilarious quotes from the story! Just know that the best and only advice that I can give you is if you loved Seduction and Snacks, then you're going to love this installment to the Chocolate Lovers Series! It was the perfect sequel and conclusion to Carter and Claire's love story and I can't wait to see what more is in store for these characters!



Oh, and a little PS for the author Tara Sivec…