There's one unfortunate thing about publishing to Amazon if you're an Indie author- your page is very difficult to find at first.
It's not like I can just search 'Saving Grace' and up pops the book I'm looking for, by the specific author I'm looking for. Nope. Every other book I don't want will be there with that title or ones similar to it. Sometimes even typing the authors name won't even work. UGH! I hate when it happens! It's so frustrating!
But there's something that can remedy that situation!!
On Amazon, there are
LIKE
buttons and
TAG
buttons to check off that make a
HUGE
difference in the search for an Indie book. Liking makes a massive difference-
for every author.
Let's do this! J.M. Hill has generously offered to giveaway three signed paperbacks of her book, Saving Grace. Woohoo!! All we need to do is
like and tag
her on Amazon. Her book is fabulous! Please help her out! I've added photos and links to make it easy for you all to see what I mean. Most readers don't even know about these little things! That's why I'm here. lol
Don't laugh at my red arrows. They weren't easy to do!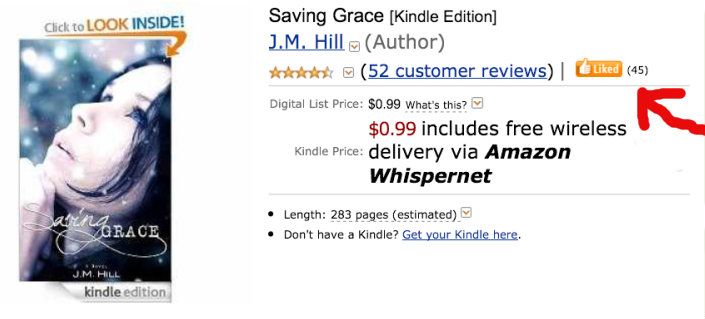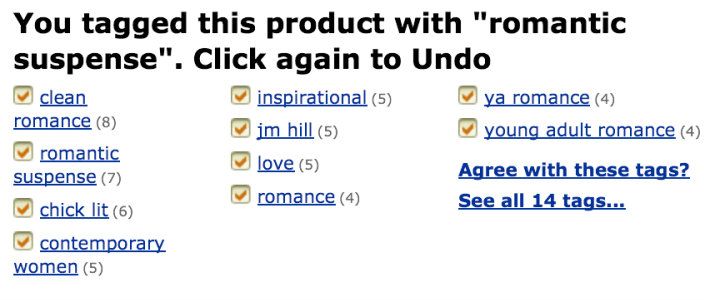 J.M. Hill's Amazon author page link
Saving Grace on Amazon Link
See how easy that is!
I'm a huge Indie reader right now. Honestly, at this point, I can't imagine reading anything else for a long time. The Indie's just do it for me. Plain and simple. There's so much emotional and realism in these books- it hits much deeper but it's what I crave for in my reads. Here is a review of Saving Grace so you can see just how amazing it is.
.
"There's no such thing as old-fashioned values. There are just values. Right has always been right and wrong has always been wrong...People have just lost sight of what's truly important."
I think this quote sums up the book in its entirety and is the reason as to why I loved the book So much. Excellent writing with an excellent story and a closeness between characters that made them lovable almost instantaneously...
Grace Elizabeth Burke is a twenty-four year old bookstore/cafe shop owner with her cousin and best friend Kate.They're happy with the quiet life they lead in their small town. They are both talented, funny, love to cook, and love watching sports. Their daily routines may seem mundane to most, but the quietness and ease of the life they lead makes them happy...Until the Anderson brothers move in...
Three, count them THREE hot guys who move in across the street. And they happen to be brothers.It wasn't just their looks that got to me either. I mean of course they were hot, but they were also genuinely good hearted guys who had a great sense of closeness, humor, and an impressive understanding of the meaning of family. Kate being the more bold of the two decides that they should introduce themselves and upon meeting the brothers, the rest practically becomes history.The ease at which they rooted themselves into the story and into Grace and Kate's lives made you feel like they had always been around.
Garret, Miles and Michael Anderson became permanent fixtures; always eating their food, coming over to watch sports or just hanging out for the sake of hanging out. You get the pleasure of joining these characters on a road to happiness, and at sometimes what true happiness can cost.
"According to my uncle,most people-especially girls-tend to settle...Piece after piece goes to guy after guy, until all that's left are broken pieces that have been used. Used and given back..."
Grace's story was a story about love, life and loss. She had to deal with some grave unforeseen circumstances and struggle with the fear brought up by those circumstances. In doing so, shealong with all of the ones she loves had to join in on her journey. There weretimes where I laughed, times where I cried, times that I was angry, and timesthat I just smiled at the greatness of the story that I was reading. I really enjoyed this book and think that if you want a good honest and pure story, then you will enjoy it too!
Forever Yours,Faithfully.
"It's because of you I can truly understand what these words even mean."
Saving Grace is a wonderful story about love. About finding the one person who doesn't cause youto settle for anything less than you deserve. About being genuine, and in doing so, how you can, sometimes, permanently affect others for the better...
*Guest Reviewer Melissa
Doesn't that review just want to make you drop everything and read the book?!
To be entered in the giveaway, please do the Amazon tagging (which can be found further down the Amazon page) and like both book and author page with the links I supplied above. Then fill out the Punch Tab form and let me know you've done it. Please leave the number in your comment. I will be watching those numbers on Amazon! :) Thanks and good luck!