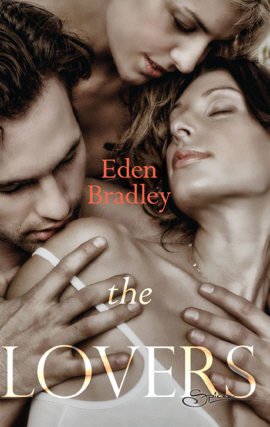 5 Stars!
Amazon link-
The Lovers
I never meant to make this such a long review, but here it is. I liked the book so much that I wanted to bring forth the well-done descriptive images Eden painted for us so you know it's not just great sex she writes about. So here goes!
Oh...My...God.
Talk about hot smokin' sex! At times I felt like not even a dive in the Arctic Ocean could cool me down!
I was a little skeptical starting this book. To be honest, I was scared. I've never read a book with two women and a man. Heck, I hardly likde the ones with two males and a female. But since it's Eden's writing I gave it a chance. And I'm so glad I did! I loved this book so much! When I knew I only had about 20% left, I tried to find anything I could do but read. I didn't want it to end and I wasn't sure how it was going to end. This book has a different feel all together than her other books. I can't quite explain it....I just know that I enjoyed it a lot. I'll be sure to read this baby again very soon!
For a year now, Bettina has been involved in an online group for writers. It's where a bunch of aspiring writers go to seek help with their writing. Every year they all get together at a beach front property in California for eight weeks. This year will be Bettina's first year. They've all gotten to know each other pretty well online so she's looking forward to this time away from home. Bettina is hoping that after a few years of therapy she'll finally be ready to open up....and possibly find out who she is.
Upon arriving, she is greeted by the owner of the house, Viviane. Viviane has been hosting these eight week sessions for years now. She takes Bettina in and gives her the tour of the house. During the tour, she finally meets most of the members from the online writing group, except Jack, who hasn't arrived yet. This is also where she meets Audrey. Audrey is like an ethereal creature that exudes sexuality. Immediately, Bettina is drawn to Audrey. Nearly everyone is drawn to Audrey. She is sensual and beautiful who always has a smile on her face. Since Bettina has never been attracted to another woman before, this feeling is entirely new for her...she's not quite sure why she has these feelings for another woman, but she embraces it with open arms. They become very close in every way imaginable for the next few weeks, until Jack shows up.
Jack has been coming to this getaway for a few years now, so he knows everyone but Bettina. There is clearly some heat between them once they meet, and it's addressed almost instantly. When Jack, Bettina and Audrey get together, they share some very erotic scenes that are sure to leave you all flustered...and panting! They were hot but sensual to read, and truthfully, I got to the point where I couldn't wait for it. I mean, this book is entitled, 'The Lovers', so it was bound to happen sometime soon. Audrey is a free spirit so when Charles shows up (a friend who happens to live next door), she takes off with him, leaving Bettina and Jack in the sand. Jack and Bettina grow close and she finds herself becoming more attracted to him than what she wants to...even though Jack has made it quite clear he is not a relationship sort of man. The heart wants what the heart wants.
There's so much more than the smoking hot sex scenes shared between the characters. Don't get me wrong, they were hot and plentiful! But so was so the well developed characters with their strong emotions and feelings. They all have their own secrets they're struggling with. It wasn't just Bettina, Jack and Audrey, it was all the members of the writing group you get to know. Bettina is a bit of a recluse and hasn't been with a man in a long time, but the therapy has been helping her. Jack idolized his father when he was younger but as he grew into a man, he saw what he didn't want to be. He blames himself for the near death of an ex-girlfriend. He wants no attachments in a relationship- ever. So when he finds himself with these unknown feelings for Bettina, he turns to Audrey, who sweet talks him back to her. Audrey is like a feather in the wind. She comes and goes when she pleases. She was raped when she was younger so she has some emotional issues she's dealing with. I felt like she doesn't ever comes to terms with herself, almost as if she kind hides who she is. They all are on their own path to self discovery, I just think they didn't know it at first.
The way Ms. Bradley describes California is exactly how I remember it. I've been there many times and she manages to capture the essence of it with a simple paragraph-
The beach is a long sweep of pales sand with a rocky outcropping some distance to the south and another to the north. A few houses are scattered on the edge of the dunes, some small cottages, some enormous places made all of glass, taking advantage of the spectacular view. The old cypress tree and eucalyptus trees grow in spots almost to the shore, and the sand is dotted with clumps of ice plant. It's low tide and seaweed lies in the dark, curling strands at the edge of the water, waiting to be carried back out to float on the sea. I can smell the salt, tangy and fresh and energizing. I can feel the power of the waves as they surge in, then out.
I think I'm becoming addicted to Eden Bradley's work. More so than her books written as Eve Berlin. Her books give me a glorious sensual high that I don't want to come down from. They're provocative and titillating yet passionate and captivating. Eden Bradley sure knows how to give a good read!
Here are a few of my favorite parts of this book:
The early-afternoon is high overhead, it's golden rays warming my skin, fighting the damp, misty spray from the ocean.
He is silent again, and I focus waves of heat shimmering over the sand, a water mirage. A gull flies overhead, then another, and I watch them catch a current of air, spiraling upward together, their bodies dark silhouettes against the sun.
I grind my hips into him, and his tongue lashes into my mouth, tasting, pushing deeper. His hands move down and he grabs my butt, his fingers digging in just beneath the crease where the curve of flesh, meets my thighs.
I moan softly, and he moans back, pulling me harder into him. Then he pushes back. I am left dazed.
"Jack...?"
"We can't do this, Bettina."
"Wh-why not?"
Hurt is flooding my body. Rejection. I am weak with it.
His kiss is hot, powerful, his tongue delving into my mouth. I taste him, swallow him up, and he does the same to me. We are on exactly the same sensual page and this time I know I'm not imagining it.
Overwhelming. Beautiful.
The ocean flows and recedes around us and I no longer feel the cold. The sun overhead is not nearly as brilliant as the heat blooming between us. And the entire earth just falls away, leaving nothing but the two of u. No sand, no sea. Just our bodies pressed together, our lips, our hands.
"I get that. You've made me get that. And I want to be different. Because of you. But I'm not going to be any good at this. At believing I deserve this, maybe. Not at first. But if you just hang in there with me...."
The sky is dark now, inky all over, except for the nearly full moon, And where it touches the water, reflecting, it gives just enough silvery light to see by. I lie back in the sand, which is still warm from the day, allowing my brain to empty, hoping for peace, and finding a little of it in that bottomless arc overhead.

The ocean's throaty roar fills my ears, and it's comforting, as though the sound itself is a blanket, holding me on the earth. It helps to make the inside of my quiet. I am soothed by the earth and water, and this is exactly what this place is for me since I've arrived, despite what I'm feeling now, the confusion I've been through.
Warning- this book is first person narrative and contains a lot of sex scenes (f/f, f/f/m, f/m) and adult language. So if you're not comfortable with it, please don't read it. You'll just end up giving it a poor rating when it doesn't deserve that.