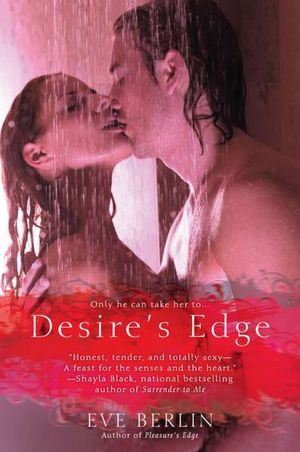 Amazon link-
Desire's Edge
3.5 Stars
I love when it rains. The sound of rain drops splashing on the tops of roofs and against the thin glass of cheap windows does something for me. I swear I could watch and listen to the rain fall for hours.
Kara Crawford and Dante De Matteo (what a great name he has!) are both at a mutual friend's house for a dinner party one night. They haven't seen each other since high school. So when Kara sees Dante across the room, all grown up, looking more handsome than ever, she grabs her wine and takes off in the other direction. She abruptly decides that last thing she needs is another romance. After all, Kara is coming off a bad breakup that seemingly started when she told her now ex-boyfriend about her secret sexual fantasies. He thought she was nuts, calling her a freak after she finally shared one of her long desired sexual fantasies to him. The last thing she needs is another man telling her she's too much of a freak.
After all those years, Dante now sees Kara from a different perspective. He too has life experiences that have shaped his views. He decides to sit down right next to her. They strike up an easy flowing conversation ending with a searing kiss... a kiss that reached all the way down deep inside Kara...possibly igniting that certain need she was looking for? What happens next is something I'm normally not a fan of: sex in the beginning of the book. But because Ms. Berlin established the background that formed the relationship between the two leading up to the scene, I felt comfortable with the eventual intimacy she revealed.
After a fiery ardent weekend, Kara returns to work to meet the new partner at her firm. Dante. She is shocked to the core to see him there. Immediately, Kara wants to put an end to their steamy relationship. But how can she when she's finally getting what she wants in the bedroom...and liking it so much? It's what she craved, what she needed. Being the dominate authoritative man that he is, Dante tells Kara it's not happening; they're not calling off this thing they've started. So their intimacy grows. Kara is falling for him more and more each time they are together. But long, deep-rooted issues from her childhood, that seem to always loom in the back of Kara's mind, have pushed her to question every move Dante has made.
Did you ever have that feeling? That feeling where nothing makes sense at all yet you're comfortably where you are supposed to be? That's exactly what Kare and Dante are feeling. Nothing makes sense to them. Those burning desires and deep swirling emotions will leave them in a challenging predicament: one that could bring them closer or tear them apart.
There's something to be said about sex, mixed with rain, that thrusts our desires. The idea of making love in the rain, while drops of water splash against your skin, seems to illuminate the act itself . And the same goes for being inside when it rains. It provides a warm closeness that makes you want to curl up on a cozy sofa or bed and lay there on it all day. Kara and Dante have lots of steamy scenes in the water. Oh boy, were they hot each time!
Is it possible to fall into subspace while reading one of Ms. Bradley's books? Because I think I came close to it. I swear, this book made me feel all the sensations Kara was feeling. Ms. Bradley does not disappoint!
This book was provided by the author in return for an honest review.
Thank you!