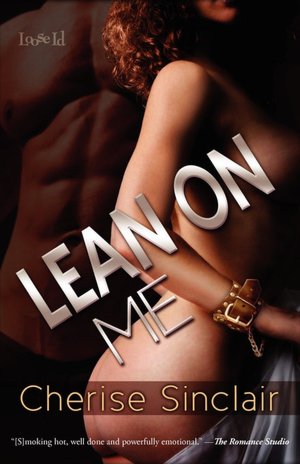 From the moment you meet Master Cullen, there is something seriously alluring and seductive about him. You want more...much, much more of him. When Master Cullen told Kari he'd top her in the second book, Dark Citadel, I was done. The phrase 'hooked, line and sinker', could easily describe how I felt about him.

"I'll top you tonight."
-Master Cullen to Kari

Andrea has a bit of a troubled past. She's been on her own since she was young and doesn't need help from anyone. She has loved and lost at a young age. Andrea's friend was able to pull some strings for her so she could join the Shadowlands club, an exclusive BDSM club. The problem is, she wants to submit but has trouble submitting to just anyone. She needs someone strong and tough, who can take her as is, not want her to change on the outside or the inside. Andrea has a sharp tongue, which is completely unacceptable for a dom, yet it brings so much fire to the story. It was a delight to see her speak her mind...then be punished.


I'll be quite honest. Master Cullen didn't move me as much in his novel as he did in the other books. His story was great to read, don't get me wrong, I liked it a lot, but Master Dan still has my heart...so far.


Cherise Sinclair's Shadowlands book are much more then most would think. When you hear BDSM books, you think sex. Well....yes, there will be sex. Lots of hot smoking, steaming, erotic sex. But there's so much more to her stories too. You begin to feel a connection to the characters, as if you've known them for years. These books won't make you cringe or hold your breath. They'll make you feel many different emotions as well as beautiful. They did for me at least. You'll want to hold on with a firm grip to this tight little knit family and not let go. I call it a family simply because they are so open and honest with each other; accepting each for who they are. And I loved every minute of it.

A favorite scene of mine-
Stopping. Even as she whimpered, he smacked her leg one more time. "Why?"
She couldn't think., everything burned and throbbed as need churned inside of her. He wouldn't let her move. He held her...he hurt her...he kept her safe...
"Why Andrea?"
"He isn't you." The words burst from within her. "I trust you." Her head bowed as she whispered, "I only want you."
We also meet Master Marcus in this book. All I can say is...WHOA! I can not wait to read his book!

On a side note: I still don't understand the whole public play thing. It's just not my thing. But I feel it fits this series just right and therefore I am...ok with it...now.
If you have a problem with it, I suggest you just skip right over it and keep on reading. Of course you'll miss some hot and steamy scenes, but as long as you keep reading, then you're all good.